Prof. Dr.-Ing. H. Siegfried Stiehl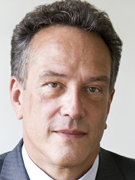 Arbeitsbereichsleiter
Arbeitsbereich Bildverarbeitung
Anschrift
Universität Hamburg
Fachbereich Informatik
Vogt-Kölln-Straße 30
22527 Hamburg
Büro
Raum: R-115
Kontakt
Fax: +49 40 42883-2572
---
Sekretariat
Sekretariat
Vogt-Kölln-Straße 30
22527 Hamburg
Raum: R-116
Current Research Projects
2015-2019 PI of Scientific Service Project Z03 "Image Processing
Methods for Determining Visual Manuscript and Character Features" in
Collaborative Research Center (Sonderforschungsbereich) 950
"Manuscript Cultures in Asia, Africa and Europe" (DFG)"
https://www.manuscript-cultures.uni-hamburg.de/Poster/Z03_A4_P2_eng.pdf
Team:
Märgner, Volker, Dr.-Ing., Co-PI
Academic Director ret.
Institute for Communications Technology, TU Braunschweig
Tel.: +49 531 391 2483
Fax: +49 531 391 8218
v.maergner [at] tu-bs.de
www.ifn.ing.tu-bs.de
Konidaris, Thomas, PhD
PostDoc (Word Spotting)
Tel: +49 40 42838 - 9394
Fax: +49 40 42838 - 4899
thomas.konidaris [at] uni-hamburg.de
Mohammed, Hussein Adnan, M.Sc.
Doctoral Student (Handwriting Analysis and Writer Identification)
Tel: +49 40 42838 - 9397
Fax: +49 40 42838 - 4899
hussein.adnan.mohammed [at] uni-hamburg.de
Publikationen:
Efficient Keypoint Reduction for Document Image Matching (T. Konidaris, V. Märgner, H.A. Mohammed, H.S. Stieh), In: Proc. 8th Int. Conf. on Pattern Recognition Applications and Methods, Prague, February 19-21, 2019 (pdf).
Writer identification in historical manuscripts: Analysis and optimization of a classier with an easy to use implementation for scholars from the humanities (H. Mohammed, V. Maergner, and H. S. Stiehl), In: 16th IAPR International Conference on Frontiers in Handwriting Recognition (ICFHR), page to appear. IEEE, Aug 2018. (pdf)
NormalisedLocal Naive Bayes Nearest-Neighbour Classifier for Offline Writer Identification (Hussein Mohammed, Volker Märger, Thomas Konidaris, H. Siegfried Stiehl), In: Document Analysis and Recognition (ICDAR), 14th International Conference on. IEEE, 2017, Kyoto, Japan, pp. 1013-1018. (pdf)
OpenX for Interdisciplinary Computational Manuscript Research (Pre-Conference Workshop)
June 12 - 13, 2018
CSMC, The Centre for the Study of Manuscript Cultures
University of Hamburg, Warburgstraße 26,
20354 Hamburg, Germany 
iXMan_Lab
Directors:
H. Siegfried Stiehl, Prof. Dr.-Ing. & Vinodh Rajan Sampath, PhD
Technician: Dieter Jessen
Affiliated Z03 Team Members:
Thomas Konidaris, PhD, Hussein Adnan Mohammed, MSc
MS/BS Student Members: 
Tim Christopher Hahn (M): Computational Analysis of Charactêres in Digitized Manuscripts: A Proof of Concept (March 2019)
(Joint Supervision with Dr. Michael Kohs, SFB 950, Sub-Project B08)
Christoffer Kassens (M): Gabor Wavelets-Based Detection and Description of Repetitive Line-Like Texture in Digitised Documents: Theory and Experiments
Parth Sarthi Pandey (M): Detection of Visual Structure in Magia Figurate Manuscripts
Marlon Kramer (B): SIFT/FAST Performance Comparison
Nico Noster (B): Visualizing SIFT and FAST based workflow
iXMan_Lab is an acronym for interactive eXploration of Manuscripts Laboratory. The underlying motto for our laboratory - funded by DFG via SFB 950 "Manuscript Cultures in Asia, Africa and Europe"  - is to jointly develop theory-driven concepts, computational paradigms, experimental designs, and workflow-driven prototypes which they can utilize in their day-to-day research activities. (pdf)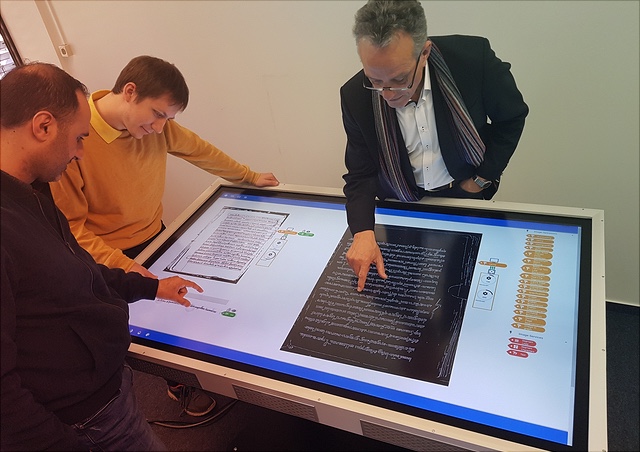 Even though primarily situated within the Department of Informatics, the lab is uniquely placed within the Centre for Manuscript Studies (CSMC) as well through its ability to web-interact with various scholars from selected pilot sub-projects of SFB 950 – Manuscript Cultures in Asia and Africa. As a consequence, the interdisciplinary approach behind our laboratory adopts the facilitation of a joint requirement analysis in the light of design thinking along with a joint experimentation given computational methods for manuscript analysis through close interaction between scholars from Manuscript Studies and Informatics. In a broader context, the laboratory is embedded in the open science paradigm, e.g. open data initiatives and open source toolboxes. 
The lab provides an infrastructure, or even platform, for interdisciplinary teams by utilizing a multi-touch table environment with high-performance computing equipment as a medium for a two-fold aim: First, experimentally designing a manageable processing chain based on computational vision methods for analyzing digitized manuscripts and, second, freezing-in a validated (or even evaluated or benchmarked) processing chain by consensus in order to deliver a useful tool for a broad range of users. In terms of hardware capabilities, the laboratory currently has a custom built 65-inch multi-touch table (MTT) supported by a multi-core gaming engine. Thus our laboratory is completely equipped for running GPU-accelerated image processing and analysis algorithms, and if necessary, running deep learning methods as well.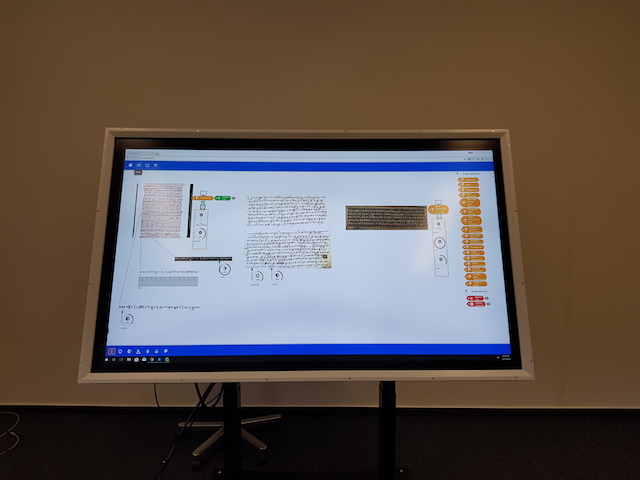 Currently, the main focus of our iXMan_Lab is set on the further development of the Advanced Manuscript Analysis Portal (AMAP) equipped with an intuitive interaction paradigm in the context of a multi-touch table. Hence our iXMan_Lab  will allow interdisciplinary teams to intuitively customize various advanced image processing and analysis methods as processing chains through visual programming, touch-based interaction on a large (65") scale and joint experimentation with digitized manuscripts from selected SFB sub-projects.
Publications:
Advanced Manuscript Analysis Portal (AMAP): An Interactive Visual Language Environment for Manuscript Studies (Vinodh Rajan Sampath, H. Siegfried Stiehl), In: Proceedings of Digital Humanities Conference 2019 (Annual International Conference of the Alliance of Digital Humanities Organizations)", July 9-12, 2019, Utrecht (to be published).
From Eye-to-Eye to Hand-in-Hand: Collaborative Solution Building in Interdisciplinary Manuscript Research (Rajan, V. & Stiehl, H. S., In: Burghardt, M. & Müller-Birn, C. (Hrsg.), INF-DH-2018. Bonn: Gesellschaft für Informatik e.V. (pdf)
Bringing Paleography to the Table: Developing an Interactive Manuscript Exploration System for Large Multi-Touch Devices (Vinodh Rajan Sampath, H. Siegfried Stiehl), In: Document Analysis Systems (DAS), 13th IAPR International Workshop, 2018, Vienna, Austria. (pdf)
Academic Career Milestones
Academic Education
| | |
| --- | --- |
| 1980 | Dr.-Ing. Dissertation, Department of Computer Science (CS), Technical University of Berlin (TUB), Germany (Topic: Automated Processing and Analysis of Cranial Computed Tomograms) |
| 1976-1979 | Doctoral Scholarship from TUB |
| 1976 | Diploma in CS, TUB, Germany (Topic: Graph-Theoretic Analysis of Moving Point Clusters) |
| 1973 | Ing. (grad.) Degree in Ingenieur-Informatik, Fachhochschule Furtwangen, Germany (Topic: Simulation of Signal Transmission) |
Academic Career Milestones
| | |
| --- | --- |
| 1988 | Professor of Informatics, Cognitive Systems Research Group (KOGS), Department of Informatics, Universität Hamburg, Germany |
| 1987 | Habilitation (Field of Teaching: Digital Image Processing and Image Analysis (Computer Vision)), Department of Computer Science (CS), Technical University of Berlin (TUB), Germany (Topic: On Spatial Image Sequence Understanding) |
| 1982-1988 | Hochschulassistent (Assistant Professor), Department of CS, TUB, Germany |
| 1981 | Postdoc, GRASP Lab, Moore School of Electrical Engineering, University of Pennsylvania, USA |
| 1979-1982 | Teaching and Research Associate, Institute of Technical Computer Science, Department of CS, TUB, Germany |
Service to Scientific Community and Academia
2019

Member of Programm Committee, International Conference on Document Analysis and Recognition (ICDAR), September 20-25, 2019, Sydney, Australia
http://icdar2019.org

2019

Member of Programm Committee, 5th International Workshop on Historical Document Imaging and Processing (HIP 2019), ICDAR 2019, Sydney/Australia, September 20-21, 2019                   https://www.primaresearch.org/hip2019/

2019
Member of Programm Committee, Workshop "Software Engineering in den Digital Humanities" (im Rahmen der GI-Jahrestagung), 23./24.9.2019, Kassel
https://fg-infdh.gi.de/infdh-workshop-2019/
2018
Member of Programm Committee, 1st International Interdisciplinary Symposium on Reading Experience & Analysis of Documents (READ 2018), DFKI, Kaiserslautern, October 4-5, 2018
http://www.dfki.uni-kl.de/~kieni/read2018/

2018

Member of Programm Committee, GI-Workshop "Im Spannungsfeld zwischen Tool-Building und Forschung auf Augenhöhe - Informatik und die Digital Humanities", 25.September 2018, Berlin (im Rahmen der GI-Jahrestagung 2018)

2018

Member of Programm Committee, 3rd International Conference on Natural Sciences and Technology in
Manuscript Analysis, June 13-14, 2018, Centre for the Study of Manuscript Cultures, Hamburg
https://www.manuscript-cultures.uni-hamburg.de/natural_sciences_2018.html
2017
Member of Programm Committee, 1st International Workshop on Human-Document Interaction, 14th IAPR International Conference on Document Analysis and Recognition, ICDAR 2017, Kyoto/Japan
2017
Member of Programm Committee: 4th International Workshop on Historical Document Imaging and Processing,14th IAPR International Conference on Document Analysis and Recognition, ICDAR 2017, Kyoto/Japan
2017
Member of Programm Committee, BILDUNGSRÄUME DeLFI 2017 – Die 15. e-Learning Fachtagung Informatik
der Gesellschaft für Informatik 5. bis 8. September 2017, Chemnitz, Deutschland
2017

Gutachter zur DFG-Ausschreibung "Skalierbare Verfahren der Text- und Strukturerkennung für die Volltextdigitalisierung historischer Drucke", 2017.

http://www.dfg.de/foerderung/info_wissenschaft/2017/info_wissenschaft_17_13/

2017

Gutachter für den Leibniz-WissenschaftsCampus II "Kognitive Schnittstellen (Cognitive Interfaces)", 2017


2015-heute

Beiratsmitglied Kerndatensatz Forschungs Helpdesk (KDSF-Helpdesk) (Link)

Deutsches Zentrum für Hochschul- und Wissenschaftsforschung (DZHW) (Link)

2014-2018
Member of Project Group "Intelligent Education Networks" (Head: Prof. Dr. Christoph Igel, German Research Center for Artificial Intelligence DFKI) of the Focus Group Intelligent Networks of the Platform Digitalization of Economy of the Federal Government's National IT Summits
2016
Member of Programm Committee, 2nd International Conference on Natural Sciences and Technology in
Manuscript Analysis, February 29 - March 2, 2016, Centre for the Study of Manuscript Cultures, Hamburg
2013-2015
Member of Project Group "Definitions and Data Formats" of BMBF-funded Project "Specification of Core Data Set Research" (Head: Prof. Dr. Stefan Hornbostel, iFQ, now DZHW; cf. Drs. 5066-16 of German Council of Science and Humanities, January 2016)
2007-2013
Member of DFG-funded Project Group "Herleitung, Implementation und Validierung beweisbar korrekter Methoden zur Oberflächen- und Volumenrekonstruktionunter realen Bedingungen (GEPRIS) - Projektnummer 54575692
2007-2013
Vice President for Research, International Affairs (until 2010), and Information Management (CIO), Universität Hamburg
2006-2007
Deputy/Vice Dean for Strategic Development of Fakultät für Mathematik, Informatik und Naturwissenschaften, Universität Hamburg
2006
Key Member of Core Team on "Institutional Strategy to Promote Top-Level Research", Universität Hamburg
2004-2006
Member of Board of Deans of Fakultät für Mathematik, Informatik und Naturwissenschaften (MIN), Universität Hamburg
2001-2006
Dean of Department of Informatics, University of Hamburg
2001
Founding Member of Interdisciplinary Nanoscience Center Hamburg (INCH)
2001
Member of President's Interdisciplinary Task Force "Center for Bioinformatics Hamburg", Universität Hamburg
2000-2001
Vice Dean of Department of Informatics,Universität Hamburg
since 1988
Member of International Conference Program Committees,
Reviewer of Research Proposals and Research Programmes,
(Co-)Organizer of Scientific Events,
Member of (Advisory) Editorial Board of Image and Vision Computing (until 2007),
Biological Cybernetics (until 2004),
and Journal of Mathematical Imaging and Vision (until 2007)
Past Team Research Highlights
| | |
| --- | --- |
| 1996-1999 | PI of Interdisciplinary Research Project "Cellular Neural Networks and VLSI Chips for Anisotropic Diffusion" (Grant Sti 147/1-2,  DFG-Schwerpunktprogramm, Partner: Technical University of Hamburg-Harburg) |
| 1994-2000 | PI of Interdisciplinary Research Group "Image and Atlas-Guided Interventions in Neurosurgery" (Grant: Philips Research) |
| 1992-1995 | PI of Interdisciplinary Collaboration "Computational and Psychophysical Approaches to Contour Segmentation" (Grant: DAAD / British Council, Partners: Departments of Computer Science and Psychology, University of Birmingham, UK) |
| 1990-1994 | Member of BMFT Verbundprojekt "Neuronal Architecture for Mobile Systems (NAMOS)" (Grant IN 101C/1, Prime Contractor: Ruhr University Bochum) |
| 1990-1999 | (Founding) Member of Interdisciplinary DFG-Graduiertenkolleg "Kognitionswissenschaft", Deputy Speaker (1995–1999) and Coordinator of Visual Perception and Attention Track, University of Hamburg |
| 1988-1995 | Member of Interdisciplinary EU Research Consortium "Computer Vision in Radiology (COVIRA)" (Grants A1011 and A2003, Prime Contractor: Philips Research Labs Hamburg) |
---