Restricted Access to the Informatikum
Wördemannsweg closed due to construction work
11 July 2022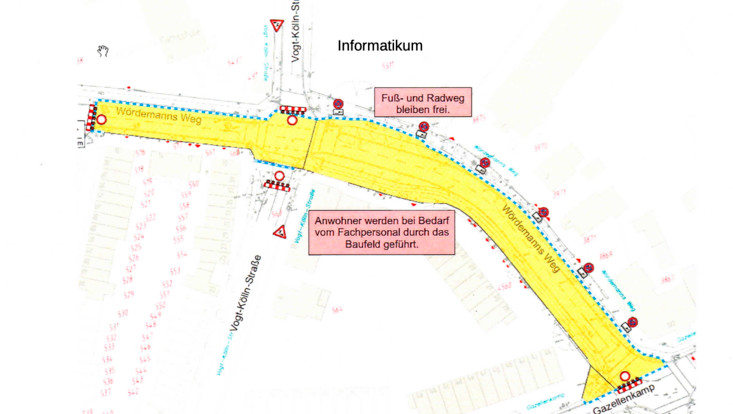 Photo: KEMNA Bauzeichnung
Due to construction work, the Wördemannsweg will be completely closed to vehicular traffic from July 11 to August 17, 2022, between Gazellenkamp and Stellinger Steindamm, including access to Vogt-Kölln-Straße and the Informatikum.
By car, the Informatikum can only be reached from the north via the street Niendorfer Gehege to Vogt-Kölln-Straße.
The Hagenbeck parking lot at Gazellenkamp can still be used, but please note that you either need an Informatikum parking ticket or have to pay a 3€ parking fee.
Construction drawing Wördenmannsweg (PDF)
The pedestrian and bicycle path on Wördemannsweg from Gazellenkamp to Vogt-Kölln-Straße and thus to the Informatikum remains accessible.
Bus lines 181 and 281 will be diverted, The bus stop Informatikum from U Hagebnecks Tierpark is relocated to Gazellenkamp / Stellinger Steindamm. The bus stop Informatikum towards U Hagenbecks Tierpark is cancelled; please use the next bus stop Hagenbeck Nordeingang.