Cognitive Demands of Redirected Walking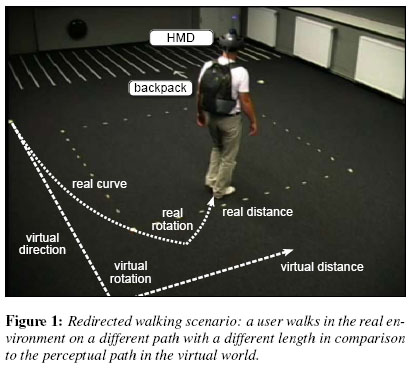 In the real world we navigate with ease by walking, running, driving etc., but in immersive virtual environments (IVEs) realistic simulation of locomotion is difficult to achieve. Walking is considered the most basic and intuitive way of moving within the real world. Keeping such an active and dynamic ability to navigate through large-scale IVEs is of great interest for many 3D applications demanding locomotion, such as in urban planning, tourism, or 3D entertainment.
In the scope of a DFG funded research project we introduced different redirection techniques, which can be used to apply gains to user motion so that the virtual world moves differently than the real world. By redirecting users on physical paths that deviate from the visually perceived self-motion, e.g., walking in circles while believing to walk straight, users can walk through large-scale IVEs while physically remaining in a reasonably small workspace.
VIDEOS