Digital Science Night: Algorithmic Futures
22 November 2018, by Eugen Ruppert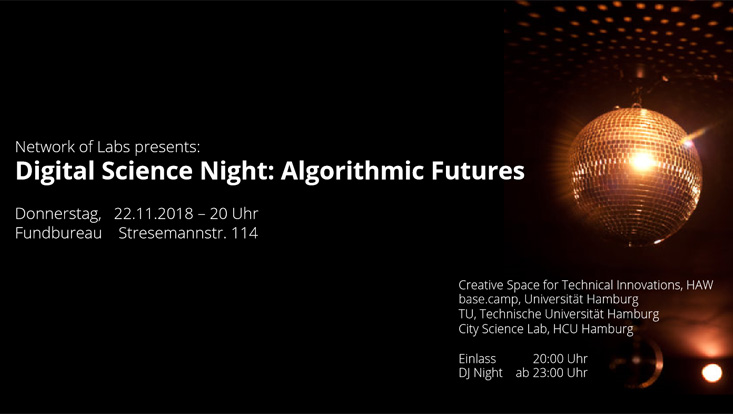 Photo: Martin Kohler
Computer sind so klein, die sind jetzt überall, Data Mining bedroht unsere Jobs und unsere Privatsphäre und alles Böse kommt von Google! Der "Computer" wird zur magischen Wunderbox, die alles kann und alles zerstört. Was aber können Algorithmen wirklich? Was ist denn Digitalisierung genau? Und wer forscht dazu? Wer könnte mir das einigermassen verständlich erklären?
Wir machen einen Abend dazu. Unterhaltsam und lehrreich. Im freundschaftlichen Wettbewerb miteinander um die beste Erklärung und gute Unterhaltung. Wir sind das Network of Labs, der Abend heißt Digital Science Night. Das Event vereint Wissenschaft und Party und zeigt, dass sich beides super ergänzt! In lockerer Atmosphäre bauen Studierende zuerst direkt im Club coole Prototypen. Anschließend gibt es das Battle of Scientific Giants, den Science Slam, danach Musik.
Doch wenn Ihr selbst keine Zeit zum basteln hast, kommt gerne zur Digital Science Night: Whackathons and Science Slam! (Flyer)
Ort und Zeit
fundbureau, Stresemannstraße 114, 22769 Hamburg (Anfahrt)
22. November 2018, 20:00 Uhr
Der Eintritt ist frei
Ablauf
Whackathon
Bevor die eigentliche Party gegen 20 Uhr im fundbureau steigt, müssen die Exponate erstellt werden. Das base.camp veranstaltet hierzu einen Whackathon, der bereits im Sommer super gelaufen ist. Im Whackathon bauen wir einige sinnlose aber sehr spaßige Apps: Tindern mit Hunden? check! Motivationsposter aus Twitter? check! Sieg beim Wettbewerb mit anderen Labs? kriegen wir schon hin, wenn Ihr mitmacht!
Der Whackathon findet tagsüber statt.
10:00 bis 18:00 im fundbureau
Club
Wenn die Prototypen fertig sind, schauen wir, was die anderen für coole Dinge gebastelt oder gecodet haben. Einströmende Besucher können die Prototypen bewerten, sodass wir ein Siegerteam aus HAW, UHH, TUHH und HCU küren können. Danach slammen die Wissenschaftler zum Applausometer und die Party beginnt...
Anmeldung zum Whackathon
Habt Ihr Lust, Euch mal an offenen Web APIs zu probieren? Meldet Euch an(basecamp"AT"informatik.uni-hamburg.de?subject=Whackathon), gerne auch als Team. Dann können wir den Whackathon genauer planen. Wir freuen uns!

Mit freundlicher Unterstützung von ahoi.digital und HITeC. Durchführung des Whackathons zusammen mit dem Whackathon-Team.
---