Digital Science Night: Algorithmic Futures
22 November 2018, by Eugen Ruppert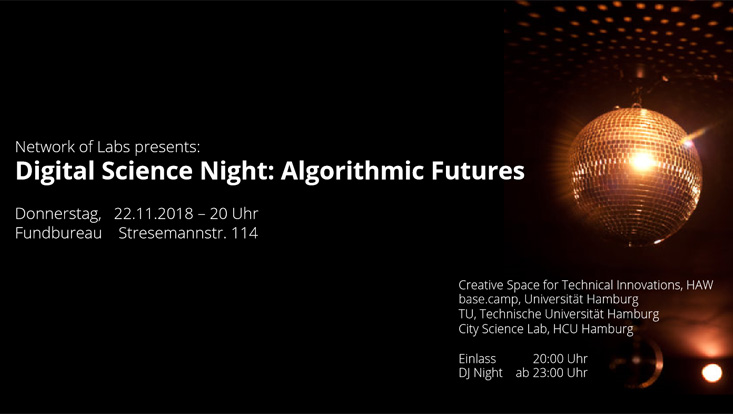 Photo: Martin Kohler
Computers are so small, they are everywhere now, data mining threatens our jobs and our privacy and all evil comes from Google! The "computer" becomes a magical wonder box that can do everything and destroys everything. But what can algorithms really do? What exactly is digitalization? And who does the research? Who could explain it to me in a reasonably understandable way?
We will make an evening of it. Entertaining and instructive. In friendly competition for the best explanation and good entertainment. We are the Network of Labs, the evening is called Digital Science Night. The event combines science and party and shows that both complement each other perfectly! In a relaxed atmosphere students first build cool prototypes directly in the club. Afterwards there is the Battle of Scientific Giants, the Science Slam, followed by music.
But if you don't have time to do handicrafts yourself, come to the Digital Science Night: Whackathons and Science Slam! (Flyer)
place and time
fundbureau, Stresemannstraße 114, 22769 Hamburg (Directions)
November 22, 2018, 8:00 p.m.
Admission is free
Procedure
Whackathon
Before the actual party at the fundbureau at around 8 pm, the exhibits have to be created. The base.camp is organising a whackathon for this purpose, which has already been running great in summer. In the whackathon we build some senseless but very funny apps: Tindern with dogs? check! Motivation poster from Twitter? check! Victory in the competition with other labs? we can do it if you participate!
The Whackathon takes place during the day.
10:00 to 18:00 at the fundbureau
Club
When the prototypes are finished, we'll see what cool things the others have made or coded. Incoming visitors can rate the prototypes, so we can choose a winning team from HAW, UHH, TUHH and HCU. Afterwards the scientists slam to the applause meter and the party starts...
Registration for the Whackathon
Would you like to try your hand at open Web APIs? Sign up, also as a team. Then we can plan the Whackathon more precisely. We are looking forward to it!
With friendly support of ahoi.digital and HITeC. Execution of the Whackathon together with the Whackathon team.
---