Prof. Dr. Ricardo Usbeck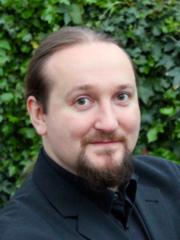 Photo: UHH/Usbeck
Juniorprofessor (W1) for Semantic Systems
Semantic Systems (SEMS)
Address
Universität Hamburg
Faculty of Mathematics, Informatics and Natural Sciences
Department of Informatics
SEMS Research Group
Office
Room: F-411
Office hours
Please write an E-mail. See also below!
Contact
Information on the Current Situation (COVID-19)
Meetings in person are currently not possible!
The best way to contact me is via e-mail: ricardo.usbeck(at)uni-hamburg.de
We may arrange a call (phone or Zoom) or some other way of communication if preferred.
Bio
I am a professor (W1TTW2) for Semantic Systems in the Computer Science Dept., MIN Faculty, University of Hamburg since May 2021.
Born and raised in Halle (Saale), I did my bachelor's and master's of computer science at Martin-Luther-University Halle-Wittenberg. After two years in an industrial R&D lab in Leipzig, I joined the University of Leipzig where I graduated with a Dr. rer. nat. (Ph. D.) in 2017. In parallel to graduating, I joined the newly established chair of data science (Prof. Dr. Axel Ngonga) at the University of Paderborn as a postdoc. In 2019, I became a member of the Fraunhofer Institute for Intelligent Analysis and Search Systems (IAIS), where I was given the opportunity to build a new location in Dresden together with Prof. Jens Lehmann. 
For more information, write us an email to get a full CV!
Github: https://github.com/semantic-systems
Twitter: https://twitter.com/Ricardo_Usbeck 
LinkedIn: https://www.linkedin.com/in/ricardo-usbeck/ 
Research Profile
My research interests circulate around knowledge-driven, semantic-driven technologies and methods to enable computers to understand and help humans. As such, the semantic systems research group focuses on bridging the gap between human and machine-understandable data. We explore knowledge extraction and validation, search and question answering, and also FAIR benchmarking technologies. 
Teaching
Lecture Slides
Enrolled UHH students will find the slides at the Stine portal and on our GitHub organization.
Current Teaching 
A list of all currently and previously taught courses.
Theses
We are inviting you to write your thesis (be it B. Sc., M. Sc. or Ph. D.) with us. You can find a list of open thesis topics on our webpage which is continuously updated.