The Masters Course
Reasons for the Introduction of the New Masters Course
There is a significant lack of highly qualified experts for IT Management und professional IT Consulting, as many firms based in Hamburg and the surrounding region complain. This is true for both the suppliers of IT services and products as well as for larger software organisations.
There is a great need for graduates who can combine a strong grasp of IT knowledge, economic skills as well as marked competence in communication and social interaction and in addition to this have consultancy and management experience.
Sponsorship and Funding Through Firms
In order to ensure the necessary resources, a foundation professorship has been settled in the Department of Informatics. During the course of the first six years, this foundation professorship will be financed and supported to the greater part by the board of trustees. During this period the professorship is to develop a centre for technology transfer which will ensure the systematic reciprocal transfer between practical research and researchable practice and continue to guarantee the financial backing of the professorship.
The board of trustees encompasses a list of companies from the Hamburg area, who as users or as suppliers of IT-services are interested in a reputable and longstanding development of the region in this field. The members of the board advise the Masters Course authorities as to the thematic definition of the courses and offer support by means of student projects, practicals, guest speakers and visits abroad.
Aims of the new Masters Course
The desired training profile of the IT Transfer performer is lacking in today's expertise landscape, however it is exactly what major companies and consulting offices are seeking to find. The Masters Course has as its goal to develop and impart the superior qualifications and skills so necessary today. The blend of conceptual and methodical knowledge with practical fields of activity is achieved through custom-built teaching methods, (university- and firm-based projects, guest speakers from industry, visits abroad). In addition to the informatics and economic subjects imbedded in the teaching of orientational knowledge, there will be a strong stress on social, communicational and management skills. Part of the module content will be held in English.
Course Structure
The following graphic shows an overview of the specific modules of the course (in German language):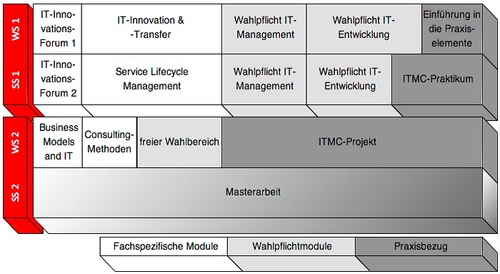 Compulsory Section with 57 Creditpoints (CP) - Core topic IT Innovation and Transfer: scientific methods and concepts as well as applied modules with projects within the supporting companies
Optional Compulsory Section with 27 CP - Electives in the subject area IT Development and Management
Optional Section with 6 CP - Electives can be chosen from the core subjects of the university or from the optional
Master Thesis with 30 CP - Carried out in one of the supporting companies of the course