NFDI4DS - National Research Data Infrastructure for Data Science and AI

The vision of NFDI4DataScience (NFDI4DS) is to support all steps of the complex and interdisciplinary research data lifecycle, including collecting/creating, processing, analyzing, publishing, archiving, and reusing resources in Data Science and Artificial Intelligence.
The overarching objective of NFDI4DS is the development, establishment, and sustainment of a national research data infrastructure for the Data Science and Artificial Intelligence community in Germany. This will also deliver benefits for a wider community requiring data analytics solutions, within the NFDI and beyond. The key idea is to work towards increasing the transparency, reproducibility and fairness of Data Science and Artificial Intelligence projects, by making all digital artifacts available, interlinking them, and offering innovative tools and services. Based on the reuse of these digital objects, this enables new and innovative research.
Partners are: German Research Center for Artificial Intelligence (DFKI), Fraunhofer FOKUS, Fraunhofer FIT, FIZ Karlsruhe, GESIS Leibniz Institute for the Social Sciences, Hamburger Informatik Technologie-Center e.V. (HITeC), Leibniz University Hannover, Schloss Dagstuhl – Leibniz Center for Informatics, RWTH Aachen University, TIB Leibniz Information Centre for Science and Technology, TU Berlin, TU Dresden, University Leipzig, ZB MED Information Centre for Life Sciences, ZBW Leibniz Information Centre for Economics
SEMS (HITeC e.V.) is responsible for Task Areas 3 and 4. See below. HITeC is the Research and Technology Transfer Center of the Department of Informatics at the University of Hamburg.
Task Area 3: Infrastructure and Services establishes the infrastructure to collect and share all input, which we call Digital Objects (DO) which is required to deliver quality-assured data analytics solutions. The registries and repositories keep track of releases of quality assessed data as well as Data Science solutions required for assessment and the resulting benchmark information. The digital objects will be represented with rich metadata information and assembled as Research Knowledge Graphs for public use. Additional components ensure access to search and recommendation services (e.g., through a portal) and to additional services for public use such as data creation, annotation, and curation as well as an online authoring, publication, and execution platform. It further provides unified access to public HPC infrastructures.
Task Area 4: Transfer and Application aims to create a strong connection between the Data Science and AI sub-communities and NFDI4DS. We will focus on the sub-communities of (1) natural language processing and language technology as well as Semantic Web, (2) biomedical research and clinical decision-making, (3) information sciences and (4) social sciences. Additionally, we will activate other data-driven sub-communities by an open call for projects. The open call will allow for up to 30 speedboat projects whose feedback will influence our development road map and whose tangible results will be made available through our emerging infrastructure.
Project website: nfdi4datascience.de
Twitter: @nfdi4ds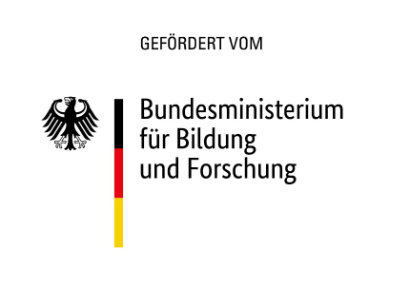 Duration: 2021 - 2026
Project lead: Prof. Ricardo Usbeck
Sponsor: Bundesministerium für Bildung und Forschung