This page:UHH > MIN > Department of Informatics > Institutes > Research groups > EIT > About EIT > News > 2018 > Newly published – The Politics of Big Data
Newly published – The Politics of Big Data
27 April 2018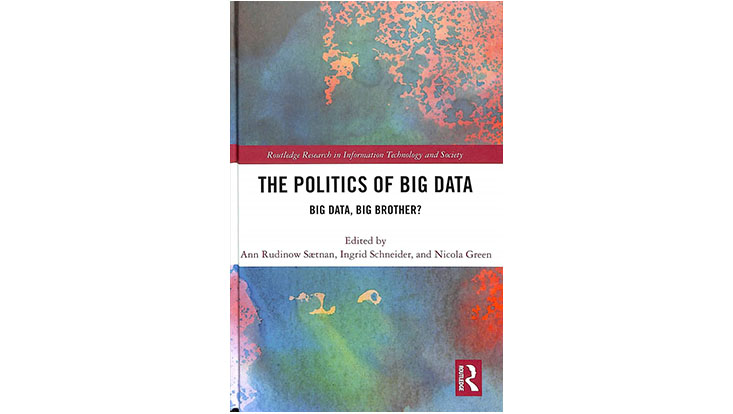 Photo: Routledge Taylor & Francis Group
Ingrid Schneider is one of the editors of " The Politics of Big Data - Big Data, Big Brother?". The book was recently published by Routledge Taylor & Francis Group.
Link to publishers webpage of the book
Content
 1 The politics of Big Data: principles, policies, practices 1
Ann Rudinow Sætnan , Ingrid Schneider , and Nicola Green
PART I
Principles and paradigms: questioning the tenets of Big Data 19
2 The haystack fallacy, or why Big Data provides little security 21
Ann Rudinow Sætnan
3 Grasping the ethics and politics of algorithms 39
Tobias Matzner
4 Big Data – within the tides of securitisation? 46
Stefan Strauß
5 Surveillance as a critical paradigm for Big Data? 68
Tobias Matzner
PART II
Big Data policies: politics of governance and regulation 87
6 Tracing Big Data imaginaries through public policy: the case of the European Commission 89
Gernot Rieder
7 The automated public sphere 110
Frank Pasquale
8 Bringing the state back in: Big Data-based capitalism, disruption, and novel regulatory approaches in Europe 129
Ingrid Schneider
9 Rear window – transparent citizens versus political participation 176
Maria João Simões and Nuno Amaral Jerónimo
10 Fading dots, disappearing lines – surveillance and Big Data in news media after the Snowden revelations 197
Gunhild Tøndel and Ann Rudinow Sætnan
PART III
Performance is political: Big Data practices, performance, and resistance 225
11 No (Big) Data, no fiction? Thinking surveillance with/ against Netflix 227
Rocco Bellano va and Gloria González Fuster
12 'Data trainings' in German schools – learning empowerment from hackers 247
Julia Fleischhack
13 Self-protection beyond the self: collective privacy practices in (Big) datascapes 265
Carsten Ochs
14 Understanding the 'open' in making research data open: policy rhetoric and research practice 292
Merel Noorman , Bridgette Wessels, Thordis Sveinsdottir , and Sally Wyatt
Part IV
Postscript 319
15 Big Data's methodological challenges 321
Nicola Green


Ingrid Schneider is also co-author of the book "Big Data und Gesellschaft, Eine multidisziplinäre Annäherung" (Big Data and society - a multidisciplinary approach) by B. Kolany-Reiser et al. (eds.), 430 pages, Springer VS,  2018.
More information and the electronic version of the book is available at:
https://link.springer.com/book/10.1007%2F978-3-658-21665-8