Laura Fichtner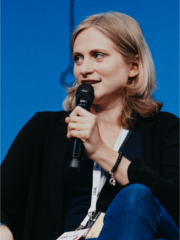 Photo: Laura Fichtner, Foto von Johannes Eichstädt
Research Associate
Address
Universität Hamburg
Informatik / EIT
Vogt-Kölln-Straße 30
22527 Hamburg
Office
Room: G-119
Contact
PGP Public Key
-----BEGIN PGP PUBLIC KEY BLOCK-----
mQINBFicjkgBEACzZkUdX1e72NFNRXZS39QsgMv6GP2k6kzYJEW1b3AsY/CV/VRt
QRyuxnb7OS7usdwZ2AMDmJ31vG3WHe8gVHCUOcwyNR7W+iq14n7P8AqdJdbGvUQ2
cx6ONsrYfePwE8VHIK+Lu9jIo9+R5GCwGp4GxrNWjMh1oNIO+bQ7u0/fZMS07WRi
Lh5qbnEZ0Z7QefFq9MKlbmtQEL6MSqajFe+Q1yAnHVpVN5L+Fu6ZbzMMB05bM7f8
aICIQ+ZZFLOoa1JY96FOgAnH2IeIL02K1389NTEgqfQ9nDieaXhKXvDDFinDiRwW
Yf6vcI3dooay1//DYvaGUvXYwj7rw3rFis+o9HO5HxFY2hSzFt3WfTicT+QoPwIn
1t/f2HTedjX1+sWGgFMnxNxpKjh1H2KABF/f0WbrYTTRCjTtmoEMzAa2kdZMs1CU
jh+Bq7TuTY1RE8SlftKRXIj7BP59XGplG6wCsmzVkvN0pHW2m6D40V/x8d6oD6F6
E0QMnMUKvZhnqWWmv0ydp5NQleYEP1nFJCbAFQkA5G3swI0TFKtqAc4gW/WsV3tQ
E/uU+726tXjuRbce5zqqI8S0hTF1Zzje6KuBEJ8Llr4gdtmId/xQNXygHb5IFzq2
N+ue9jm772C2602VZ6aGph9oS0bgvRD9x7HBcLhjQp6wbohk4qUYhD9y/wARAQAB
tDNMYXVyYSBGaWNodG5lciA8ZmljaHRuZXJAaW5mb3JtYXRpay51bmktaGFtYnVy
Zy5kZT6JAlcEEwEIAEECGyMFCwkIBwIGFQgJCgsCBBYCAwECHgECF4ACGQEWIQR/
Ht8/yOoVtPGFLc4LPafLz5ZyLgUCWcovtgUJAw7U7gAKCRALPafLz5ZyLqJ5D/9z
3ltQVmqDeKXIjXRMdeKoLS8KF/ohFw2vJtRa8IT5okhfKXC8PVRFjlGlGZDG32jH
qDzF0X5cfsHZ5EQ7MtDh7RHJonTTJFHlXKFt6fqEpkbTh2KZRTNA+hYVuuGjlr2p
QnJi7jXuStQFWdr0Fcr8s8iYxAY6jCqVofy5gYgItxk4ZHOuu08Gk8ABYTckj6Md
DSV+XGpZdwlq/I27Gy4Dd7+xT45rRowRpgONxk/DtVZniiz+eei36eu03U3Kbtfr
sZ5nD4daj3PvYIAdW+JdRMb9vMZwdPuovhAAdFGxH7B15a/sFmzr5+jYZWDMpcse
Oq+oBUPEQ59ersWPbtqj21Umj61A2IibTgkck7BFEH/+S1DeKVj/gt7krk3abAs4
qsDITPJJcv6e6s8GoNKcTRcfMjhMnZfU5jCUmFD+mF64d3XY4JalNXNqYoyp7cY5
XJ2XQt+Hj4OV365Nbdl9cf/McHlxCgtSvL46z25UvtShugn86ZdhWRmVgXshf3GP
dSqj7RLRPAEL2SSH4qViGj49oiE+zjDL39omo7609PPUhwLIFOZ9KbOiIydQAp8g
eb9cHYWpuRuKTxBU37F2uiZ4+NutiHGfnZr6pBJVNH+TH8KFw+d1lBXSWNbjxnPJ
uVWvQQS0gSBQj0Gq4Or/NL/AXnM/7Lu6xddHfMDTLbQqTGF1cmEgRmljaHRuZXIg
PGwudi5lLmZpY2h0bmVyQHR1ZGVsZnQubmw+iQJWBBMBCABAAhsjBwsJCAcDAgEG
FQgCCQoLBBYCAwECHgECF4AWIQR/Ht8/yOoVtPGFLc4LPafLz5ZyLgUCWcovtwUJ
Aw7U7gAKCRALPafLz5ZyLsOtD/4s2lCA8VwDpJVKFQT6ZHSVNAfK80Nmw4w7N6oE
UjMWGgfCGsU+KjpNMoWEkj8pHjT5rOBdwg9BxbCMe3dFiJ9E3DWgejjRgzLS0azQ
KVSzsAyr2GwsA0dI8ovf3CBx4RXrDRZOUFKhfkrwhwAlbkr+ALSjeL7gbOhoosYe
FRTwEZG7tPl2fisuUBi29tccaO860YFXUAbSVV9TkRrHSfjdwYIHX6GeUM1cXcC7
885trMu7FaIoN1fZZL+fbC9mNfd25xUcuhTFPZcAl5CvLz0YgmLYU3DhFnnrMLy3
gmbw/87aVvApz3p5NYHBZb3DK7+eOu+sKEYb2lee+DG4X2jLeegOmoygVi0G9yAD
e4Sm5+LJ3sHt24CAXXUEUzBvNmyK3kOgqtzkmA8VwnAx3bzQPGqs9PpoUF5SV8Rr
u+SzWZew2UySMJsDhmUBBHYt3OMvac88I4oeVZQ7ecoJ5/b0uQk5iYSVwsn6eK37
0ulspI89uMZQl3m6UVDhqoIOWPJ6Dwa/EFHZk3PA7Ty/Fxe0lMPasSGIqxhc5Ews
bvkVQVDzf+gF98HnFbdMY1jYdlfeS5AaNqT0EFkSiRwUMWsWFOviPc0PMWztYXXX
x68XhFtQVOio/6TJGb5BGcQWIul5YQL3C3/fWHvrESFoaJgX8Ig2AAk2KA9/F2YI
nY0UJ7kCDQRYnI5IARAAspu4lC4uNBTmCTxbwjz9WCBj3S+xNa//r2zTpWZcmrvy
A5rYpGRdCtkz/gVHTpYMHc54VsgvMkEl8pHnlYAfQGubCNIVS2ZRfNxu8CWcZwNJ
qwL1qzg7zbYkacQ7tf2CJbf7cl4YVOS1UcdDugdMZsEktFvNnWTA4yNG58xXo1I9
g/HNPfd5l/4wMwaUMzAajtjRNHYo6YLJ+bNgSJNNd8++IDaaA3SZ5Tsa3lbjJcSn
YMQgam4O/t3Zk+bgDr82ST/U/hIAyOtOhgrhV9eoBrV+3/G3kKhNKmf4246D96U1
MUHdHnAB5mJSVSOWFRic5jUlnITObd86G+OhGFpw7FX58R63dkw4oX+fmdK0oUqk
9LRBxgr5MA5J64ElnyEk929taTRzeOJ6dK0/55F7Mo8K1zIXv+0Y66r+Dj83Ejkt
TCJlVVxMR7ICLQ9TQ/2cNqQ7IX+Kou9jcZh2sWlzDw6svgyHXnuL/exVqBn3T+FN
Ls6/oXoXFcoA6Vntkbovcb2KfqHgo9LvvGynOOdK/6/OFoXskIgKsoTRTDFDLehE
6NvXzbjo71hEdTuJ7e2E4TEqj9DkXlN38/gLPEM8uCsOlGxgq6EU5+bW0LYQcLQX
PPrircXDvQ9TuP0VCxxf1+eKLlvTZybXU91UmK+lpNrUgxW7DaNZepBaB9W89f8A
EQEAAYkCPAQYAQgAJgIbDBYhBH8e3z/I6hW08YUtzgs9p8vPlnIuBQJZyi+3BQkD
DtTvAAoJEAs9p8vPlnIuP5wP/2O+UzNyPeoXn9n2N0Oj8yfCTtrYNdhSBECLRQmQ
UNupvEfomLyKQILE2awPIAne/N7oYixDs6qO69n4cWqlKMxaoZGVvFqG7870T63l
g1A/91RBF6BVmKT9ngwGvK/yJAY3+s5RCKg67gpGbxOnOXswk00kku0+AMqF7Qnq
8YRqX2lahfbivspXTgRP9XojWP2GB9oqjVcPESIJH0YNVXB3uiAnl6loXvtSbEuS
JNT4ThqULYaKxahvFPH8Hhv4tWO+qHg7V7LGUdKYukwjgxcGD4KibvekCPNXP6rh
vakkmuO3tPXEjIOYe47Ldg2RrPVzj/P67O0I/f5pNGKnP52yOnkNKTiFUxWUvQmI
7NnNTtkNyCqpTAA+qPe2i+mR3jWx977pokXDG/PS6l3ZvQE+LBinTAH++vWrmc+j
+ccZ6JOdXkNPNIQRgTFR2Ashbcgh/0kZpi27q3laB7sU4tluep1KwZoNMLcFChMc
cQ3RE87DP/BWsuArVZGM12m3/LoZVt1m9rJgFLjVWL00fwyFFxGS72DGKpnRoOLN
0vtiBIFYgDj34b2fEU1IOenAoAnYdLjGT+IkjMEBN67xyed5NLVuncQcQA4L0mG6
loSvOOC6aIZJ1RG3cds2OJOHPyrLUT/0HH9hqaVBiL0HiUdbEl9lf6NJ9bw02iX/
0GM2
=OhQY
-----END PGP PUBLIC KEY BLOCK-----
Feel free to contact me via phone for fingerprint verification.
Research Areas
Internet Governance & Policy
Surveillance, Security & Privacy
Online Content Moderation & Curation
Critical Information Studies
Media & Communication Studies, STS
Ethics, Politics & Culture of Science, Technology & Media
Discourse Analysis & Framing Studies
CV
Laura Fichtner is a PhD candidate and research fellow with the Ethics in Information Technology research group at Universität Hamburg's Department of Informatics. She researches and teaches on the intersections of information technology, ethics and politics. For her dissertation project, she studies the discourse around a German law that regulates online content, hate speech and disinformation. In Spring 2020, Laura was also a fellow at the Harvard Kennedy School's Program on Science, Technology & Society under a scholarship of the German Academic Exchange Service (DAAD).
Prior to her appointment in Hamburg she researched the politics of cybersecurity, its framings and relations to data protection and privacy in the Faculty of Technology, Policy and Management at Delft University of Technology in the Netherlands.
Laura graduated with a Master's degree from University of Twente's program in Philosophy of Science, Technology and Society where she specialized in ethics of technology and wrote her thesis on surveillance and internet governance. She also completed a Peacebuilding curriculum at Universität Hamburg and holds a Bachelor's degree in Electrical Engineering and Information Technology from the Karlsruhe Institute for Technology.
PhD Project
For her PhD project Laura analyses the public and political discourses around high profile decisions of internet governance. These decisions concern the access to and control over information and information flows on the internet. Laura particularly focuses on the role different values and worldviews play in how such decisions play out. She employes discourse analysis in order to identify the frames and narratives created around the ethical, political and societal implications of information technologies.
In the past, Laura has focused on issues of cybersecurity, privacy and surveillance. She is currently working on a case study of the German "Facebook Law" which seeks to regulate problematic and possibly illegal content on social media platforms such as hate speech and disinformation.
Publications
Academic Publications:
Fichtner, L. (2018). What kind of cyber security? Theorising cyber security and mapping approaches. Internet Policy Review, 7(2). DOI: 10.14763/2018.2.788. https://policyreview.info/articles/analysis/what-kind-cyber-security-theorising-cyber-security-and-mapping-approaches
Fichtner, L., Pieters, W., & Teixeira, A. (2016, September). Cybersecurity as a Politikum: Implications of Security Discourses for Infrastructures. In Proceedings of the 2016 New Security Paradigms Workshop (pp. 36-48). ACM Digital Library. dl.acm.org/citation.cfm?id=3011887
Interviews and Articles:
"Laura Fichtner: A Smart City of Flows", Interview by Margoth González Woge for the Urban Technologies blog, Summer 2017. https://urban-technologies.blogspot.de/2017/09/laura-fichtner-smart-city-of-flows.html
Techno-Politics as Network(ed) Struggles: The Politics of Internet Surveillance. January, 2016. FIfF Kommunikation 1/16 (pp.50-54). https://www.fiff.de/publikationen/fiff-kommunikation/fk-2016/fk-2016-1
Master Thesis:
Fichtner, L. Scientia est Potentia: Techno-Politics as Network(ed) Struggles. Master thesis. essay.utwente.nl/66530/
Selected Presentations
Conference & Workshop Presentations:
Moderating the Regulators/Regulating the Moderators - NetzDG and Online Content Moderation in Germany, Weizenbaum Conference 2021: Democracy in Flux - Order, Dynamic and Voices in Digital Public Spheres, Berlin, Germany (virtual event), June, 17th, 2020.
Content Moderation and Liberal Democracy, Annual Conference of the European Association for the Study of Science and Technology/Society for Social Studies of Science, Prague, Czech Republic (virtual event), August, 21st, 2020.
Undercurrents of the Marketplace of Ideas, Conference on Graduate Research in Science and Technology Studies, Harvard University, Cambridge, MA, USA (virtual event), September, 5th, 2020.
The Framing and Politics of Cybersecurity, "AI Vulnerabilities: An Integral Look at Security for AI" Workshop, AI Now Institute, New York, USA, August, 23rd, 2019.
What kind of cybersecurity? Mapping Approaches to Cybersecurity, Conference of the Association of Internet Researchers, Tartu, Estonia, October, 20th, 2017.
Technological Discourses as Proxies for Political Struggles: The Case of Cyber-Securitization, 11th Pan-European Conference on International Relations - "The Politics of International Studies in the Age of Crises", Barcelona, September 15th, 2017.
A Smart City of Flows - How Smart Cities Can Shape Urban Experience and Creativity, Computer Ethics Philosophical Inquiry/Ethicomp Conference, University of Turin, May 6th, 2017.
On the Role of Frames a Narratives for Digital Media Politics, invited talk at the "Security and the Political Turn in the Philosophy of Technology" Workshop, University of Twente, March 10th, 2017.
Cybersecurity as a Politikum: Implications of Security Discourses for Infrastructures, "New Paradigms in Security" Workshop, Colorado, September 27th, 2016.
Techno-Politics as Network(ed) Struggles, presentation at the 5th ICTs and Society Conference, Vienna, June 5th, 2015, and at the Digital Citizenship and Surveillance Society Conference, Cardiff, June 19th, 2015.
Moral Obligations of Businesses within Global Technology Production: The Case of Conflict Minerals at the 18th Conference for Philosophy and Technology, Lissabon, July 2013.
Other Presentations & Panels:

Politiken der Überwachung, Werkstatt für Internationale Kultur und Politik W3, Hamburg, February 27th, 2019.
Leben in und mit dem Internet: Zum Wechselverhältnis technischer Entwicklungen und gesellschaftlicher Werte, invited talk at Volkshochschule Beckum, April 17th, 2018.
Digitalisierung im Stadtteil, Gemeindehaus der Kirchengemeinde Eidelstedt, October 29th, 2018.
How Social Media Influence Democracy Fish Bowl, Tag des Wissens, TU Harburg, Hamburg, September 22nd, 2018.
Panel Diskussion Digitale Ethik, CEBIT 2018, Hannover, Germany, June 13th, 2018.
Ethics & Virtual Reality, NextReality Meetup, Hamburg, Germany, May 9th, 2018.
Awards
Master Thesis Award 2015, Computer Scientists for Peace and Social Responsibility: Forum InformatikerInnen für Frieden und gesellschaftliche Verantwortung e.V. (FIfF)
Academic Service
since 07/2018: Member of the Ethics Commission of the Department of Informatics, Universität Hamburg
2021: Program committee member CEPE/IACAP Joint Conference 2021: The Philosophy and Ethics of Artificial Intelligence (2021)
2019: Program committee member New Paradigms in Security Workshop (NSPW)
2017: Program committee member Workshop on Ethics in Natural Language Processing
Memberships
Affiliated member at the 4TU.Centre for Ethics and Technology, The Netherlands
Teaching
WS 21/22
64-111 Scientific Methods and Research Ethics in Computer Science
SoSe 21
64-126 Politics of Objectivity - Information Technology, Identity & Social Order
WS 20/21
64-111 Scientific Methods and Research Ethics in Computer Science
64-639 Seminar Lecture Series "Taming the Machines"
SoSe20
64-168 Digital Publics - On the Role of Science and Technology for Publics and Political System
WS 19/20
| | |
| --- | --- |
| 64-655 | Data & Research Ethics |
| 64-111 | Introduction to academic writing and presentation (in German) |
SoSe 19
| | |
| --- | --- |
| 64-641 | Seminar Philosophy, Society and Information Technology (in German) |
| 64-111 | Introduction to academic writing and presentation (in German) |
WS 18/19
| | |
| --- | --- |
| 64-457 | Seminar Computer Science - Inbetween Science and Engineering (in German) |
| 64-111 | Introduction to academic writing and presentation (in German) |
SoSe 18
| | |
| --- | --- |
| 64-641 | Seminar Philosophy, Society and Information Technology (in German) |
| 64-111 | Introduction to writing and presentation techniques (in German) |
WS 17/18
| | |
| --- | --- |
| 64-642 | Political and ethical perspectives on (cyber)security, surveillance and privacy (in German) |
| 64-111 | Introduction to writing and presentation techniques (in German) |
04/2017
Guest Lecturer, Money as Medium and Technology, Department of Philosophy, University of Vienna
11/2016- 02/2017
Teaching Assistant Security & Technology, Leiden University & Delft University of Technology
12/2015
Guest Lecture Surveillance & Technology, Leiden University & Delft University of Technology
Thesis Supervision:
ongoing: Influence of Transparency in Algorithmic Content Moderation on Digital Public Sphere; Regulation of Fake News and Hate Speech through Legal Instruments in Germany and Kenya; Comparative Analysis of Covid19 Contact Tracing Apps in Germany
06/2021-04/2021: Artificial Artificial Intelligence: An Analysis of Hidden Microwork in AI Capitalism
04/2019-08/2020: Data Ethics in Computer Science Research
11/2018-07/2019: Design of News Feeds for the Support of Opinion Formation on Social Media
08/2018 - 05/2019: Responsible Disclosure for Cybersecurity Vulnerabilities
06/2018 - 03/2019: Co-supervision Fail Safe Scenarios for Civil Drones
10/2016- 08/2017
Master Thesis Supervision: Cybersecurity Requirements Engineering in Technology Development, Faculty of Technology, Policy & Management, Delft University of Technology