Laura Fichtner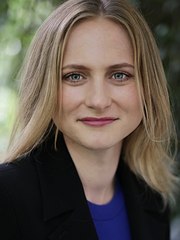 Photo: Laura Fichtner (uneingeschränktes Nutzungsrecht), Fotografin Marianne Moosherr
Associated Researcher
Address
Contact
Research Interests
Platform Governance and Content Moderation
Cybersecurity & Data Protection
AI Ethics and Governance
Critical Information Studies
Media & Communication Studies
Science and Technology Studies
Philosophy and Ethics of Science and Technology
CV
Laura Fichtner is a PhD candidate and research associate with the Ethics in Information Technology research group at Universität Hamburg's Department of Informatics. She researches and teaches on the intersections of information technology, ethics and politics. For her dissertation project, she studies content moderation, including issues of hate speech and disinformation, and its regulation in Germany.
In Spring 2020, Laura was a fellow at the Harvard Kennedy School's Program on Science, Technology & Society under a scholarship of the German Academic Exchange Service (DAAD). Prior to her appointment in Hamburg she was also a researcher in cybersecurity policy and data protection at the Faculty of Technology, Policy and Management at Delft University of Technology in the Netherlands.
Laura graduated with a Master's degree from University of Twente's program in Philosophy of Science, Technology and Society where she specialized in ethics of technology and wrote her thesis on surveillance and internet governance. She also completed a Peacebuilding curriculum at Universität Hamburg and holds a Bachelor's degree in Electrical Engineering and Information Technology from the Karlsruhe Institute for Technology.
Publications
Peer reviewed:
Fichtner, L. (2022). Content moderation and the quest for democratic legitimacy. Weizenbaum Journal of the Digital Society 2 (2). https://ojs.weizenbaum-institut.de/index.php/wjds/article/view/2_2_2
Fichtner, L. (2018). What kind of cyber security? Theorising cyber security and mapping approaches. Internet Policy Review, 7(2). DOI: 10.14763/2018.2.788. https://policyreview.info/articles/analysis/what-kind-cyber-security-theorising-cyber-security-and-mapping-approaches
Fichtner, L., Pieters, W., & Teixeira, A. (2016, September). Cybersecurity as a Politikum: Implications of Security Discourses for Infrastructures. In Proceedings of the 2016 New Security Paradigms Workshop (pp. 36-48). ACM Digital Library. dl.acm.org/citation.cfm?id=3011887
Master thesis: Fichtner, L. Scientia est Potentia: Techno-Politics as Network(ed) Struggles. Master thesis. essay.utwente.nl/66530/
Interview for the Urban Technologies Block: https://urban-technologies.blogspot.com/2017/09/laura-fichtner-smart-city-of-flows.html
Selected Presentations
Conference & Workshop Presentations:
Moderating the Regulators/Regulating the Moderators - NetzDG and Online Content Moderation in Germany, Weizenbaum Conference 2021: Democracy in Flux - Order, Dynamic and Voices in Digital Public Spheres, Berlin, Germany (virtual event), June, 17th, 2020.
Content Moderation and Liberal Democracy, Annual Conference of the European Association for the Study of Science and Technology/Society for Social Studies of Science, Prague, Czech Republic (virtual event), August, 21st, 2020.
Undercurrents of the Marketplace of Ideas, Conference on Graduate Research in Science and Technology Studies, Harvard University, Cambridge, MA, USA (virtual event), September, 5th, 2020.
The Framing and Politics of Cybersecurity, "AI Vulnerabilities: An Integral Look at Security for AI" Workshop, AI Now Institute, New York, USA, August, 23rd, 2019.
What kind of cybersecurity? Mapping Approaches to Cybersecurity, Conference of the Association of Internet Researchers, Tartu, Estonia, October, 20th, 2017.
Technological Discourses as Proxies for Political Struggles: The Case of Cyber-Securitization, 11th Pan-European Conference on International Relations - "The Politics of International Studies in the Age of Crises", Barcelona, September 15th, 2017.
A Smart City of Flows - How Smart Cities Can Shape Urban Experience and Creativity, Computer Ethics Philosophical Inquiry/Ethicomp Conference, University of Turin, May 6th, 2017.
On the Role of Frames a Narratives for Digital Media Politics, invited talk at the "Security and the Political Turn in the Philosophy of Technology" Workshop, University of Twente, March 10th, 2017.
Cybersecurity as a Politikum: Implications of Security Discourses for Infrastructures, "New Paradigms in Security" Workshop, Colorado, September 27th, 2016.
Techno-Politics as Network(ed) Struggles, presentation at the 5th ICTs and Society Conference, Vienna, June 5th, 2015, and at the Digital Citizenship and Surveillance Society Conference, Cardiff, June 19th, 2015.
Moral Obligations of Businesses within Global Technology Production: The Case of Conflict Minerals at the 18th Conference for Philosophy and Technology, Lissabon, July 2013.
Other Presentations & Panels:

Politiken der Überwachung, Werkstatt für Internationale Kultur und Politik W3, Hamburg, February 27th, 2019.
Leben in und mit dem Internet: Zum Wechselverhältnis technischer Entwicklungen und gesellschaftlicher Werte, invited talk at Volkshochschule Beckum, April 17th, 2018.
Digitalisierung im Stadtteil, Gemeindehaus der Kirchengemeinde Eidelstedt, October 29th, 2018.
How Social Media Influence Democracy Fish Bowl, Tag des Wissens, TU Harburg, Hamburg, September 22nd, 2018.
Panel Diskussion Digitale Ethik, CEBIT 2018, Hannover, Germany, June 13th, 2018.
Ethics & Virtual Reality, NextReality Meetup, Hamburg, Germany, May 9th, 2018.
Awards
Master Thesis Award 2015, Computer Scientists for Peace and Social Responsibility: Forum InformatikerInnen für Frieden und gesellschaftliche Verantwortung e.V. (FIfF)
Academic Service
since 07/2018: Member of the Ethics Commission of the Department of Informatics, Universität Hamburg
2021: Program committee member CEPE/IACAP Joint Conference 2021: The Philosophy and Ethics of Artificial Intelligence (2021)
2019: Program committee member New Paradigms in Security Workshop (NSPW)
2017: Program committee member Workshop on Ethics in Natural Language Processing
Memberships
Affiliated member at the 4TU.Centre for Ethics and Technology, The Netherlands
Teaching
WS 21/22
64-111 Scientific Methods and Research Ethics in Computer Science
SoSe 21
64-126 Politics of Objectivity - Information Technology, Identity & Social Order
WS 20/21
64-111 Scientific Methods and Research Ethics in Computer Science
64-639 Seminar Lecture Series "Taming the Machines"
SoSe20
64-168 Digital Publics - On the Role of Science and Technology for Publics and Political System
WS 19/20
| | |
| --- | --- |
| 64-655 | Data & Research Ethics |
| 64-111 | Introduction to academic writing and presentation (in German) |
SoSe 19
| | |
| --- | --- |
| 64-641 | Seminar Philosophy, Society and Information Technology (in German) |
| 64-111 | Introduction to academic writing and presentation (in German) |
WS 18/19
| | |
| --- | --- |
| 64-457 | Seminar Computer Science - Inbetween Science and Engineering (in German) |
| 64-111 | Introduction to academic writing and presentation (in German) |
SoSe 18
| | |
| --- | --- |
| 64-641 | Seminar Philosophy, Society and Information Technology (in German) |
| 64-111 | Introduction to writing and presentation techniques (in German) |
WS 17/18
| | |
| --- | --- |
| 64-642 | Political and ethical perspectives on (cyber)security, surveillance and privacy (in German) |
| 64-111 | Introduction to writing and presentation techniques (in German) |
04/2017
Guest Lecturer, Money as Medium and Technology, Department of Philosophy, University of Vienna
11/2016- 02/2017
Teaching Assistant Security & Technology, Leiden University & Delft University of Technology
12/2015
Guest Lecture Surveillance & Technology, Leiden University & Delft University of Technology
Thesis Supervision:
ongoing: Influence of Transparency in Algorithmic Content Moderation on Digital Public Sphere; Regulation of Fake News and Hate Speech through Legal Instruments in Germany and Kenya; Comparative Analysis of Covid19 Contact Tracing Apps in Germany
06/2021-04/2021: Artificial Artificial Intelligence: An Analysis of Hidden Microwork in AI Capitalism
04/2019-08/2020: Data Ethics in Computer Science Research
11/2018-07/2019: Design of News Feeds for the Support of Opinion Formation on Social Media
08/2018 - 05/2019: Responsible Disclosure for Cybersecurity Vulnerabilities
06/2018 - 03/2019: Co-supervision Fail Safe Scenarios for Civil Drones
10/2016- 08/2017
Master Thesis Supervision: Cybersecurity Requirements Engineering in Technology Development, Faculty of Technology, Policy & Management, Delft University of Technology