Dr. Gernot Rieder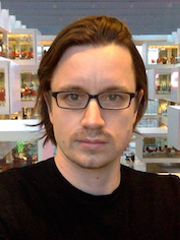 Photo: Gernot Rieder
Associated Researcher
Address
Universität Bergen, Norwegen
Short CV
Gernot Rieder is a research associate (postdoc) in the Ethics in Information Technology (EIT) research group at the Department of Informatics, Universität Hamburg.
In his dissertation (IT University of Copenhagen), Gernot investigated the rise of Big Data in public policy and the social and ethical implications of algorithmic decision making. His current research focuses on the ethics and epistemologies of evidence-based policy making, the history of statistics and computerization, and questions of trust in IT.
From 2014 to 2018, Gernot served as an Assistant Editor for the journal "Big Data & Society". He is webmaster for the Austrian Association for Science and Technology Studies (sts-austria.org) as well as the Navigating Knowledge Landscapes research network (knowledge-landscapes.hiim.hr).
Research Area
Science and Technology Studies
Critical Data Studies
History of Science and Technology
Technology Assessment
Value Sensitive Design
Trust in IT
Publications
Rieder, G. (forthcoming Summer 2021). Big Data & Ethik. In: Grunwald, A. and Hillerbrand, R. (Eds.). Handbuch Technikethik. 2nd Edition. Stuttgart: J.B. Metzler.
Simon, J. and Rieder, G. (forthcoming Spring 2021). Trusting the Corona-Warn-App? Contemplations on trust and trustworthiness at the intersection of technology, politics, and public debate. In: van Dijck, J.(Ed.). Governing Trust in European Platform Societies. Special Issue European Journal of Communication.
Rieder, G., Simon, J., and Wong, P.-H. (forthcoming Spring 2021) Mapping the Stony Road toward Trustworthy AI: Expectations, Problems, Conundrums. In: Marcello Pelillo and Teresa Scantamburlo (Eds.). Machines We Trust: Perspectives on Dependable AI. Cambridge, MA: MIT Press. Available at SSRN: https://ssrn.com/abstract=3717451 or http://dx.doi.org/10.2139/ssrn.3717451
Simon, J., Wong, P.-H., and Rieder, G. (2020). Algorithmic bias and the Value Sensitive Design approach. Internet Policy Review, 9(4). https://doi.org/10.14763/2020.4.1534
Rieder, G. and Völker, T. (2020). Datafictions: Or How Measurements and Predictive Analytics Rule Imagined Future Worlds. Journal of Science Communication, 19(1), pp. 1-22.
Rieder, G. (2018). Tracing Big Data Imaginaries through Public Policy: The Case of the European Commission. In: Sætnan, A. R., Schneider, I. and Green, N. (Eds.). The Politics and Policies of Big Data: Big Data, Big Brother? New York; London: Routledge, pp. 89-109.
Rieder, G.; Simon, J. (2017) Big Data and Technology Assessment: Research Topic or Competitor? In: Journal of Responsible Innovation, 4(2), 234-253.
Rieder, G.; Simon, J. (2017) Big Data: A New Empiricism and its Epistemic and Socio-Political Consequences. In: Pietsch, W.; Wernecke, J.; Ott, M. (Eds.) Berechenbarkeit der Welt? Philosophie und Wissenschaft im Zeitalter von Big Data. Wiesbaden: Springer VS, 85-105.
Rieder, G.; Simon, J. (2016) Datatrust: Or, the Political Quest for Numerical Evidence and the Epistemologies of Big Data. In: Big Data & Society, 3(1), 1-6.
Teaching
Spring 2021
SE (Bachelor) Seminar Philosophie, Gesellschaft und IT / Seminar Philosophy, Society and IT, Universität Hamburg
SE (Bachelor) Wissenschaftliches Arbeiten und Wissensmanagement / Scientific Practice and Knowledge Management, Universität Hamburg
Winter 2020/21
LECT+SE (Master) Informatik zwischen Wissenschaft und Technikgestaltung / Informatics: In Between Science and Engineering, Universität Hamburg
SE (Master) Maschinen Menschen bewerten: Über die Chancen und Risiken automatisierter Entscheidungsfindung / When machines judge people: on the chances and pitfalls of automated decision-making, Universität Hamburg
Spring 2020
SE (Bachelor) Seminar Philosophie, Gesellschaft und IT / Seminar Philosophy, Society and IT, Universität Hamburg
SE (Bachelor) Wissenschaftliches Arbeiten und Wissensmanagement / Scientific Practice and Knowledge Management, Universität Hamburg
Winter 2019/20
LECT+SE (Master) Informatik zwischen Wissenschaft und Technikgestaltung / Informatics: In Between Science and Engineering, Universität Hamburg
SE (Master) Maschinen Menschen bewerten: Über die Chancen und Risiken automatisierter Entscheidungsfindung / When machines judge people: on the chances and pitfalls of automated decision-making, Universität Hamburg
Spring 2019
SE (Bachelor) Visionen des Webs / Visions of the Web, Universität Hamburg
SE (Bachelor) Wissenschaftliches Arbeiten und Wissensmanagement / Scientific Practice and Knowledge Management, Universität Hamburg
Winter 2018/19
LECT+SE (Master, Guest Lecturer) Informatik zwischen Wissenschaft und Technikgestaltung / Informatics: In Between Science and Engineering, Universität Hamburg
SPRING 2017
Co-Lecturer: Big Data Processes (Spring 2017 – ITU Copenhagen)
SPRING 2016
Co-Lecturer: Big Data Processes (Spring 2016 – ITU Copenhagen)
SPRING 2015
Assistant Lecturer: Reflections about IT (Spring 2015 – ITU Copenhagen)