Catharina Rudschies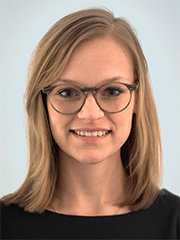 Research Associate
Address
Universität Hamburg
c/o Poststelle - Frau Prof. Simon
20141 Hamburg
Contact
Research Area
The ethics and politics of information technology
Ethics and governance of Artificial Intelligence
Surveillance Studies
Privacy and data protection
CV
Catharina Rudschies is a PhD candidate and research associate at the Department of Informatics at Hamburg University. She is a member of the Ethics in Information Technology (EIT) research group and part of the project GOAL ("Governance of and by algorithms"). Catharina's research currently focusses on the ethics and governance of AI, but she has also worked on data protection and privacy as well as surveillance studies. She holds a Bachelor of Arts in European Studies from Maastricht University, where she was part of the MaRBLe excellence programme (Maastricht Research Based Learning programme), and graduated with a Master of Science in Politics, Economics and Philosophy from Hamburg University. Before joining the EIT team, she worked as a journalist.
Selected Presentations
Presentations:
"Conceptualising Solidarity in the Context of AI", CEPE/IACAP Joint Conference 2021 ­ - The Philosophy and Ethics of Artificial Intelligence, online, July 8th, 2021.
"A Process Perspective on ADM Systems: Lessons for Responsibility and Risk Assessment", GOAL International AI Conference - Governance of and by Algorithms, online, April 8th, 2021 (joint presentation with Mattis Jacobs).
"Notes on the Political Economy of Welfare AI", EASST/4S 2020, virPrague, VR 04, August 20th, 2020 (joint presentation with Dr. Gernot Rieder).
"Ethik­ und Risiko­Framing in der Problematisierung von Technikkonflikten", Summer School GOAL ­ - Governance of and by Algorithms, online, June 23rd, 2020 (joint presentation with Prof. Dr. Ingrid Schneider.
Publications
Articles:
Rudschies, C., Schneider, I., & Simon, J. (2020). Value Pluralism in the AI Ethics Debate – Different Actors, Different Priorities. The International Review of Information Ethics, 29. Link
Teaching
SoSe 2020: Seminar Philosophie, Gesellschaft und IT
SoSe 2017: Seminar Philosophie, Gesellschaft und IT