Kevin Röbert, M.Sc.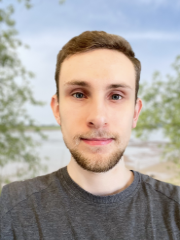 Research Associate / PhD Student
Address
Universität Hamburg
Department of Informatics
Vogt-Kölln-Straße 30
D-22527 Hamburg
Office
Room: F-622
Contact
Short Biography
Kevin Röbert is a research associate in the Computer Networks research group at the University of Hamburg. Kevin received his Master's degree at the University of Hamburg in 2022 and his Bachelor's degree in 2019.
Research Topics
My research focuses on privacy-preserving/privacy-enhancing techniques for data collection and processing in decentralized systems as well as P2P networks and software-defined networking/overlays.
Privacy-Preserving/Privacy-Enhancing Techniques in Decentralized Systems
Decentralized Overlay and P2P Networks
Software-Defined Networking
Publications
For a list of current publications see:
Theses
Do not hesitate to contact me(kevin.roebert"AT"uni-hamburg.de) for an outline of available topics. However, feel free to suggest your topics at any time.