Prof. Dr.-Ing. H. Siegfried Stiehl, (page under construction)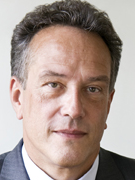 Head of Research Group (Senior)
Image Processing Research Group
Address
Universität Hamburg
Department of Informatics
Vogt-Kölln-Straße 30
22527 Hamburg, Germany
Office
Room: R-115
Contact
Fax: +49 40 42883-2572
---
Secretary's office
Secretary
Vogt-Kölln-Straße 30
22527 Hamburg
Room: R-116
---
Email
stiehl [at] informatik [dot] uni [hyphen] hamburg [dot] de
Research Projects
Current Research
iXMan_Lab
iXMan_Lab is an acronym for interactive eXploration of Manuscripts Laboratory. The underlying motto for our laboratory - funded by DFG via SFB 950 "Manuscript Cultures in Asia, Africa and Europe" - is to jointly develop theory-driven concepts, computational paradigms, experimental designs, and workflow-driven prototypes which they can utilize in their day-to-day research activities. (pdf)
---
Past Research
Z03
2015-2019 PI of Scientific Service Project Z03 "Image Processing
Methods for Determining Visual Manuscript and Character Features" in
Collaborative Research Center (Sonderforschungsbereich) 950
"Manuscript Cultures in Asia, Africa and Europe" (DFG)"
https://www.manuscript-cultures.uni-hamburg.de/Poster/Z03_A4_P2_eng.pdf

IMAGINE II, 1997 - 2000: HSS, K. Rohr (project leader), M. Fornefett, S. Frantz, A. Hagemann and students

---
Publications
DBLP publications: http://dblp.uni-trier.de/pers/hd/s/Stiehl:H=_Siegfried
All publications: https://www.inf.uni-hamburg.de/en/inst/ab/bv/publications.html
---
Recent Publications
Efficient Keypoint Reduction for Document Image Matching (T. Konidaris, V. Märgner, H.A. Mohammed, H.S. Stiehl), In: Proc. 8th Int. Conf. on Pattern Recognition Applications and Methods, Prague, February 19-21, 2019 (pdf).
Writer identification in historical manuscripts: Analysis and optimization of a classier with an easy to use implementation for scholars from the humanities (H. Mohammed, V. Maergner, and H. S. Stiehl), In: 16th IAPR International Conference on Frontiers in Handwriting Recognition (ICFHR), page to appear. IEEE, Aug 2018. (pdf)
Normalised Local Naive Bayes Nearest-Neighbour Classifier for Offline Writer Identification (Hussein Mohammed, Volker Märger, Thomas Konidaris, H. Siegfried Stiehl), In: Document Analysis and Recognition (ICDAR), 14th International Conference on. IEEE, 2017, Kyoto, Japan, pp. 1013-1018. (pdf)
OpenX for Interdisciplinary Computational Manuscript Research (Pre-Conference Workshop)
June 12 - 13, 2018
CSMC, The Centre for the Study of Manuscript Cultures
University of Hamburg, Warburgstraße 26,
20354 Hamburg, Germany
---
Past Publications
Image Processing Methods for Determining Visual Manuscript and Character Features (Scientific Service Project Z03 in SFB 950 "Manuscript Cultures in Africa, Asia, and Europe, 2015-2019)
Project "Spezifikation Kerndatensatz Forschung (Version 1.0)" (2013-2015)
http://www.kerndatensatz-forschung.de
Bundesministerium für Bildung und Forschung, Förderkennzeichen M511300A
"Dokumentation der Ergebnisse" October 13, 2015
Publisher:
Institut für Forschungsinformation und Qualitätssicherung (iFQ)
Fraunhofer-Institut für Angewandte Informationstechnik (FIT)
Geschäftsstelle des Wissenschaftsrates (Link)
Herleitung, Implementation und Validierung beweisbar korrekter Methoden zur Oberflächen- und Volumenrekonstruktion unter realen Bedingungen, Deutsche Forschungsgemeinschaft (DFG) - Projektnummer 54575692, 2007-2013: H.S. Stiehl and P. Stelldinger (Link)
IMAGINE (IMage- and Atlas-Guided Interventions in NEurosurgery), 1994 - 1997 (funded by, and in collaboration with Philips Research Labs Hamburg): HSS, K. Rohr (project leader), W. Beil, R. Sprengel and students
"Nonlinear Relaxation Networks for Preprocessing and Segmentation of Multidimensional Signals", 1996 - 1999 (funded by German National Science Foundation, DFG, within "Systems and Circuits for Massive Parallelism" programme, grant Sti 147/1-2; in collaboration with Technical University Hamburg-Harburg, Prof. R.-R. Grigat): HSS, C. Schnoerr, J. Heers, and students
CONTRA (COntour TRacking: Segmentation of Spatial and Temporal Image Sequences), 1993 - 1995 (funded by Philips Research Labs Hamburg)
"Computational and Psychophysical Approaches to Contour Segmentation", 1992 - 1995 (funded by German Academic Exchange Service, DAAD, as part of British-German Academic Research Collaboration Programme; in collaboration with University of Birmingham, Prof. G. Humphreys and Dr. E. Claridge)
NAMOS (Neural Architecture for MObile Systems; prime contractor: Ruhr-Universität Bochum, Institut für Neuroinformatik), project part D: Neural Architecture for Early Visual (Pre-attentive) Information Processing, 1990 - 1994 (funded by German Federal Ministry of Research and Technology, grant IN 101 C/1 NAMOS)
COVIRA (COmputer VIsion in RAdiology; prime contractor: Philips Research Labs Hamburg), 1989 - 1995 (funded by E.U., Advanced Informatics in Medicine as well as Telematics in Healthcare programmes, grants A 1011 and A 2003)
---
Service to Scientific Community
2020
Reviewer
Digital Humanities 2020, Ottawa, July 20-25, 2020
2020
PC Member
14th IAPR Workshop on Document Analysis and Recognition (DAS 2020),
Wuhan, May 17-20, 2020
since 2019
Member of Scientific Advisory Board
Interdisciplinary Center for Scientific Computing, Universität Heidelberg
https://typo.iwr.uni-heidelberg.de/home/
2019
Member of Program Committee (with Certificate as Outstanding Reviewer by General Co-Chairs)
15th International Conference on Document Analysis and Recognition (ICDAR 2019) Sydney, September 22-29, 2019
http://www.icdar2019.org/
2019
Member of Program Committee
International Conference on Document Analysis and Recognition (ICDAR), September 20-25, 2019, Sydney, Australia
http://icdar2019.org
2019
Member of Program Committee
5th International Workshop on Historical Document Imaging and Processing (HIP 2019), ICDAR 2019, Sydney/Australia, September 20-21, 2019 
https://www.primaresearch.org/hip2019/
2019
Member of Program Committee
2nd International Workshop on Human-Document Interaction (HDI 2019)
Sydney, September 20-21, 2019
2019
Member of Program Committee
2. InfDH-Workshop "Software Engineering in the Digital Humanities" (In context of the Informatik 2019 annual conference), September 23-24, 2019, Kassel/Germany
https://fg-infdh.gi.de/infdh-workshop-2019/
since 2018
Member of NAT-Zukunftsrat, Körber Stiftung, Hamburg
2018
Designated Member of Advisory Board of "Forschungs- und Transfer-Zentrum" (2018)
Hochschule für Angewandte Wissenschaften, Hamburg
2018
Member of Program Committee
International Conference on Document Analysis and Recognition (ICDAR)
Fourth International Workshop on Historical Document Imaging and Processing (HIP),
November 10-11, 2018, Kyoto
2018
Member of Program Committee
1st International Interdisciplinary Symposium on Reading Experience & Analysis of Documents (READ 2018), Technical University of Kaiserslautern and German Research Center for
Artificial Intelligence (DFKI), Kaiserslautern, October 4-5, 2018
http://www.dfki.uni-kl.de/~kieni/read2018/
2018
Joint Scientific Organizer (with Dr. Andreas Fischer, Université de Fribourg) Workshop "OpenX for Interdisciplinary Computational Manuscript Research", Centre for the Study of Manuscript Cultures, Universität Hamburg, June 12-13, 2018
https://www.manuscript-cultures.uni-hamburg.de/cal-details/180612_OpenX_Programme.pdf
2018
Co-Organizer (with A. Fischer, DIVA, U de Fribourg) of Pre-Conference Workshop "OpenX for
Interdisciplinary Computational Manuscript Research", The Centre for the Study of
Manuscript Cultures (CSMC), Universität Hamburg, June 11-13, 2018
https://www.manuscript-cultures.uni-hamburg.de/cal-details/180612_OpenX_Programme.pdf
2018
Scientific Co-Coordinator
Workshop "OpenX for Interdisciplinary Manuscript Research", CSMC, Hamburg, June 12-13, 2018
2018
Member of Program Committee, GI-Workshop "Im Spannungsfeld zwischen Tool-Building und Forschung auf Augenhöhe - Informatik und die Digital Humanities", 25.September 2018, Berlin (im Rahmen der GI-Jahrestagung 2018)

2018

Member of Program Committee, 3rd International Conference on Natural Sciences and Technology in
Manuscript Analysis, June 13-14, 2018, Centre for the Study of Manuscript Cultures, Hamburg
https://www.manuscript-cultures.uni-hamburg.de/natural_sciences_2018.html
2017-2018
Member: Beirat für das BMBF-Projekt "Einführung des Kerndatensatz Forschung"
2017
Member of Program Committee, 1st International Workshop on Human-Document Interaction, 14th IAPR International Conference on Document Analysis and Recognition, ICDAR 2017, Kyoto/Japan
2017
Member of Program Committee: 4th International Workshop on Historical Document Imaging and Processing,14th IAPR International Conference on Document Analysis and Recognition, ICDAR 2017, Kyoto/Japan
2017
Member of Program Committee, BILDUNGSRÄUME DeLFI 2017 – Die 15. e-Learning
Fachtagung Informatiker Gesellschaft für Informatik, 5. bis 8. September 2017, Chemnitz, Deutschland
2017
DFG-Reviewer "Skalierbare Verfahren der Text- und Strukturerkennung für die Volltextdigitalisierung historischer Drucke", 2017

http://www.dfg.de/foerderung/info_wissenschaft/2017/info_wissenschaft_17_13/

2017
Reviewer for Leibniz-WissenschaftsCampus II "Kognitive Schnittstellen (Cognitive Interfaces)", 2017
2017
Reviewer for "Leibniz-WissenschaftsCampus: Cognitive Interfaces", 2017
2015-current

Member of Advisory Council Kerndatensatz Forschungs Helpdesk (KDSF-Helpdesk) (Link)

German Centre for Higher Education Research and Science Studies (DZHW) (Link)

2014-2018
Member of Project Group "Intelligent Education Networks" (Head: Prof. Dr. Christoph Igel, German Research Center for Artificial Intelligence DFKI) of the Focus Group Intelligent Networks of the Platform Digitalization of Economy of the Federal Government's National IT Summits


https://deutschland-intelligent-vernetzt.org/expertengruppen/expertengruppe-intelligente-bildungsnetze/

2016

Member Experten-Delphi "MINT Nachwuchsbarometer 2017 - Fokusthema: Bildung in der
digitalen Transformation (Studie von acatech & Körber-Stiftung)", Institut for Advanced
Sustainability Studies, Potsdam (2016)

https://www.koerber-stiftung.de/fileadmin/user_upload/koerber-stiftung/redaktion/mint_nachwuchsbarometer/pdf/2017/MINT-Nachwuchsbarometer-Langfassung.pdf

2016

Member of Program Committee, 2nd International Conference on Natural Sciences and Technology in
Manuscript Analysis, February 29 - March 2, 2016, Centre for the Study of Manuscript Cultures, Hamburg

2013-2015
Member of Project Group "Definitions" of BMBF-funded Project "Specification of Core Data Set Research" (Head: Prof. Dr. Stefan Hornbostel, iFQ, now DZHW; cf. Drs. 5066-16 of German Council of Science and Humanities, January 2016)
2007-2013

Member of DFG-funded Project Group "Herleitung, Implementation und Validierung beweisbar korrekter Methoden zur Oberflächen- und Volumenrekonstruktionunter realen Bedingungen (GEPRIS) - Projektnummer 54575692

http://gepris.dfg.de/gepris/projekt/54575692

2007-2013
Vice President for Research, International Affairs (until 2010), and Information Management (CIO), Universität Hamburg
2006-2007
Deputy/Vice Dean for Strategic Development of the Faculty of Mathematics, Informatics and Natural Sciences, Universität Hamburg
2006
Key Member of Core Team on "Institutional Strategy to Promote Top-Level Research", Universität Hamburg
2004-2006
Member of Board of Deans of Fakultät für Mathematik, Informatik und Naturwissenschaften (MIN), Universität Hamburg
2001-2006
Dean of Department of Informatics, University of Hamburg
2001
Founding Member of Interdisciplinary Nanoscience Center Hamburg (INCH)
2001
Member of President's Interdisciplinary Task Force "Center for Bioinformatics Hamburg", Universität Hamburg
2000-2001
Vice Dean of Department of Informatics,Universität Hamburg
since 1988
Member of International Conference Program Committees,
Reviewer of Research Proposals and Research Programmes,
(Co-)Organizer of Scientific Events,
Member of (Advisory) Editorial Board of Image and Vision Computing (until 2007),
Biological Cybernetics (until 2004),
and Journal of Mathematical Imaging and Vision (until 2007)
Past Team Research Highlights
| | |
| --- | --- |
| 1996-1999 | PI of Interdisciplinary Research Project "Cellular Neural Networks and VLSI Chips for Anisotropic Diffusion" (Grant Sti 147/1-2, DFG (German Research Foundation) Priority Programme, Partner: Technical University of Hamburg-Harburg |
| 1994-2000 | PI of Interdisciplinary Research Group "Image and Atlas-Guided Interventions in Neurosurgery" (Grant: Philips Research) |
| 1992-1995 | PI of Interdisciplinary Collaboration "Computational and Psychophysical Approaches to Contour Segmentation" (Grant: DAAD / British Council, Partners: Departments of Computer Science and Psychology, University of Birmingham, UK) |
| 1990-1994 | Member of BMFT Verbundprojekt "Neuronal Architecture for Mobile Systems (NAMOS)" (Grant IN 101C/1, Prime Contractor: Ruhr University Bochum) |
| 1990-1999 | (Founding) Member of Interdisciplinary DFG-Graduiertenkolleg "Kognitionswissenschaft", Deputy Speaker (1995–1999) and Coordinator of Visual Perception and Attention Track, University of Hamburg |
| 1988-1995 | Member of Interdisciplinary EU Research Consortium "Computer Vision in Radiology (COVIRA)" (Grants A1011 and A2003, Prime Contractor: Philips Research Labs Hamburg) |
Academic Career Milestones
Academic Education
| | |
| --- | --- |
| 1980 | Dr.-Ing. Dissertation, Department of Computer Science (CS), Technical University of Berlin (TUB), Germany (Topic: Automated Processing and Analysis of Cranial Computed Tomograms) |
| 1976-1979 | Doctoral Scholarship from TUB |
| 1976 | Diploma in CS, TUB, Germany (Topic: Graph-Theoretic Analysis of Moving Point Clusters) |
| 1973 | Ing. (grad.) Degree in Ingenieur-Informatik, Fachhochschule Furtwangen, Germany (Topic: Simulation of Signal Transmission) |
Academic Career Milestones
| | |
| --- | --- |
| 1988 | Professor of Informatics, Cognitive Systems Research Group (KOGS), Department of Informatics, Universität Hamburg, Germany |
| 1987 | Habilitation (Field of Teaching: Digital Image Processing and Image Analysis (Computer Vision)), Department of Computer Science (CS), Technical University of Berlin (TUB), Germany (Topic: On Spatial Image Sequence Understanding) |
| 1982-1988 | Hochschulassistent (Assistant Professor), Department of CS, TUB, Germany |
| 1981 | Postdoc, GRASP Lab, Moore School of Electrical Engineering, University of Pennsylvania, USA |
| 1979-1982 | Teaching and Research Associate, Institute of Technical Computer Science, Department of CS, TUB, Germany |
---