Edge Adaptive Seeding for Superpixel Segmentation
Christian Wilms and Simone Frintrop
GCPR 2017
Finding a suitable seeding resolution when using superpixel segmentation methods is usually challenging. Different parts of the image contain different levels of clutter, resulting in an either too dense or too coarse segmentation. Since both possible solutions cause problems with respect to subsequent processing, we propose an edge adaptive seeding for superpixel segmentation methods, generating more seeds in areas with more edges and vise versa. This follows the assumption that edges distinguish objects and thus are a good indicator of the level of clutter in an image region. We show in our evaluation on five datasets by using three popular superpixel segmentation methods that using edge adaptive seeding leads to improved results compared to other priors as well as to uniform seeding.
Method

Given a desired number of superpixels and a number of clusters, the edge adaptive seeding mechanism for superpixel segmentation methods generates a prior about cluttered parts in the scene. This prior is used in a variation of the adaptive seeding approach of [10] to segment cluttered parts of the image more densely. As a superpixel segmentation method, any method that generates a predetermined number of superpixels can be used. First, the Structured Edges detector (SE) [6, 7] is applied to the input image, generating sharp edges with different strengths. To determine regions of different edge densities, binarization as well as smoothing is applied and the result is clustered using k-means. The seeding resolution of each cluster is determined using the average edge density within the cluster and a desired number of output superpixels. Thereby, a dense segmentation of regions with a high edge density is guaranteed, while regions with a low edge density are segmented more coarsely. After segmenting the image with a segmentation algorithm given the respective seeding resolutions of the clusters, the results of the different segmentations are cut and combined. Finally, we apply post-processing to eliminate disconnected and too small superpixels.
Results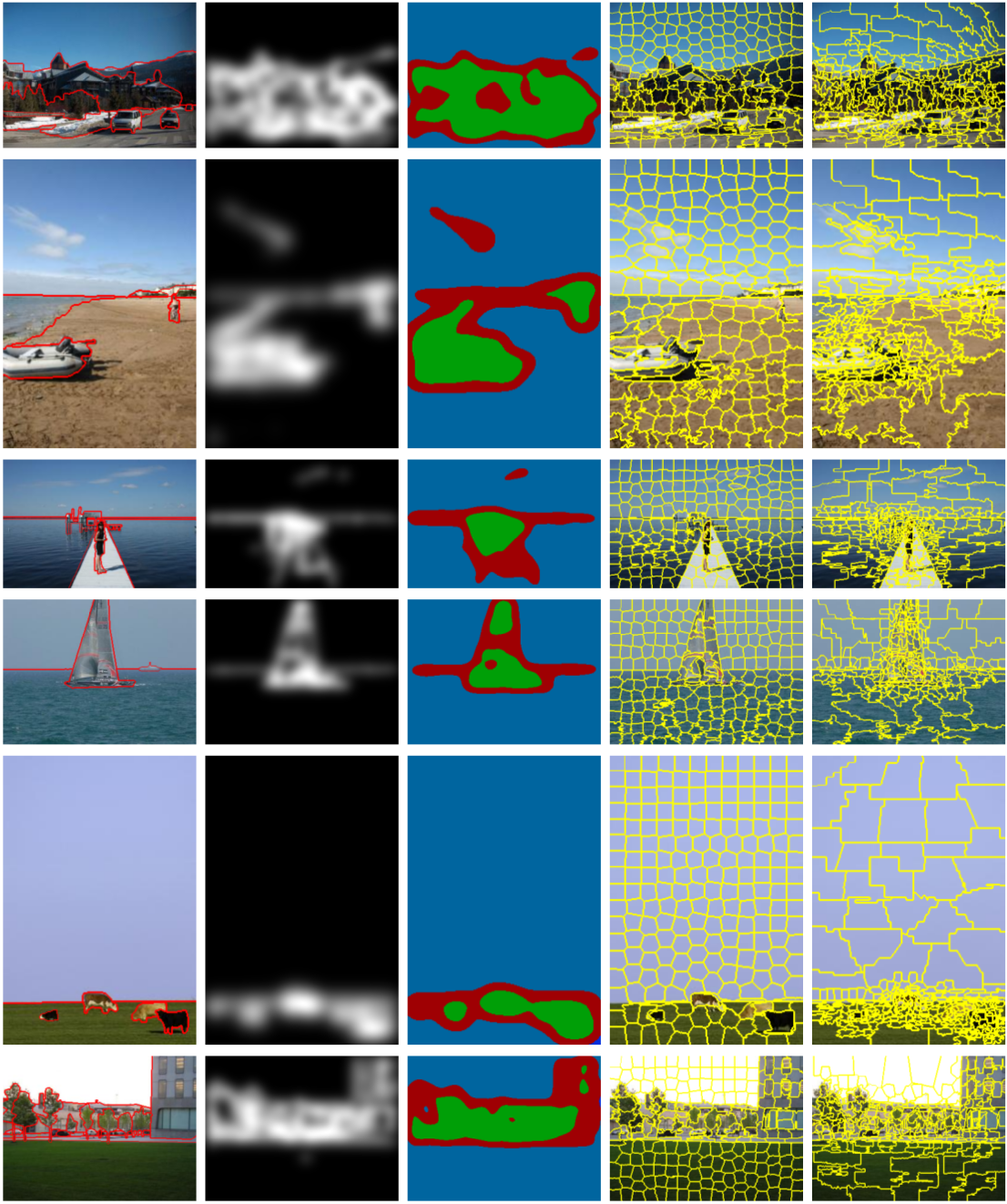 Qualitative results of the edge adaptive seeding with SLIC on images from SBD. From left to right: input image with ground truth, edge density, clusters, uniform SLIC segmentation, result of proposed seeding with SLIC. For qualitative results using SEEDS and SMURFS see [Supplementary Material].
Evaluation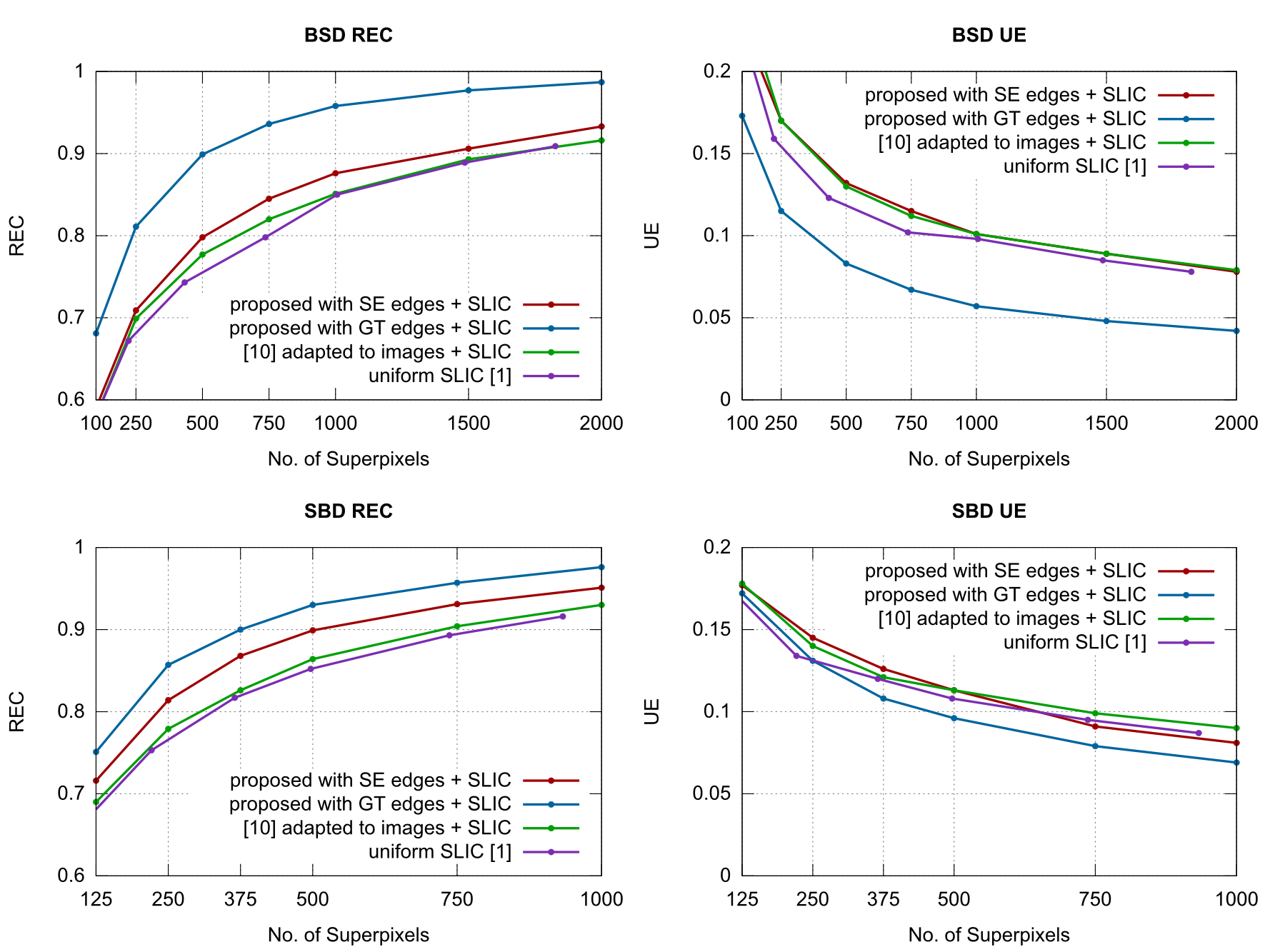 Boundary recall (REC) and undersegmentation error (UE) on the BSD (top) and SBD (bottom) datasets using SLIC. For more evaluation results on other datasets and using other segmentation methods see [Supplementary Material].
Downloads
[Paper], [Supplementary Material], [Poster], [Code and Example]
 Please cite our paper if you use our method.
@inproceedings{WilmsFrintropGCPR2017,
title = {Edge Adaptive Seeding for Superpixel Segmentation},
author = {Christian Wilms and Simone Frintrop},
booktitle = {Proc. of the German Conference on Pattern Recognition (GCPR)},
year = {2017}
}
---