Leif Bonorden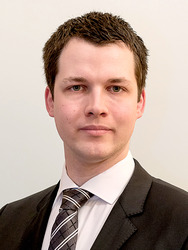 Leif Bonorden, M.Sc.
Research Associate, Doctoral Student

E‑Mail: leif.bonorden(at)uni-hamburg.de
Phone: +49-40-42883-2036
Office: Building D, Room 228
https://orcid.org/0000-0002-2131-7790
Information on the Current Situation (COVID-19)
Meetings in person are currently not possible!
The best way to contact me is via e-mail. We may also speak on the phone (temporarily via +49 451 45059922) or via Zoom – best is to arrange such a call in advance.
Research Interests
Interfaces in Modular Software Systems


API Evolution and Deprecation
API Specification and Documentation

Software Engineering Education and Training
Software Engineering and Programming Languages
Software Engineering Practices and Methods
Publications
Leif Bonorden: Forschendes Lernen im Bachelor-Seminar "Software Engineering". 9. Fachtagung Hochschuldidaktik Informatik (HDI 2021), 15–16 September 2021, Dortmund. (PDF).
Leif Bonorden: Interfaces in Modular Software Systems: Some Research Questions. 21. Workshop Software-Reengineering und -Evolution (WSRE 2019), 06–08 May 2019, Bad Honnef. (PDF).
Alexander Lenk, Leif Bonorden, Astrid Hellmanns, Nico Roedder, Stefan Jaehnichen: Towards a Taxonomy of Standards in Smart Data. IEEE International Conference on Big Data, 2015, Santa Clara. Available via IEEE.
Teaching
Wintersemester 2021/2022
Sommersemester 2021
Wintersemester 2020/2021
Sommersemester 2020
Wintersemester 2019/2020
Sommersemester 2019
2012–2015, Technische Universität Berlin

Tutorien zu Softwaretechnik (Bachelor)
Programmierpraktikum Softwaretechnik (Bachelor)
Übungen zu Objektorientierte Softwareentwicklung (Bachelor/Master)
Academic Self-governance & Other Activities
Prüfungsausschüsse (examination boards): B.Sc. and M.Sc. Informatics; Diplom Informatik
Qualitätszirkel: MIN Faculty
Ausschuss für Lehre und Studium des Akademischen Senats (committe of the academic senate)
Berufungskommissionen (search committees): several professorships
Taskforce Studiengang Data Science
CV
since 2020
Universität Hamburg
Student, M.A. Higher Education
since 2019
Universität Hamburg
Research Associate & Doctoral Student
Software Engineering and Construction Methods group (Prof. Dr.-Ing. Matthias Riebisch)
2015–2017
FZI Forschungszentrum Informatik (Karlsruhe/Berlin)
Assistant Researcher
Accompanying Research of the BMWI (German Federal Ministry for Economic Affairs and Energy) technology program "Smart Data"
2012–2015
Technische Universität Berlin
Student Teaching Assistant
Software Engineering group (Prof. Dr.-Ing. Stefan Jähnichen)
2010–2018
Technische Universität Berlin
Student, B.Sc. and M.Sc. Mathematics
Bachelor's thesis "Stochastic Homogenization for the Principal Eigenvalue in the Anderson Model with Small Disorder" (Probability Theory)
Master's thesis "The Golfing Scheme" (Functional Analysis)