Events: Conferences, Workshops
We contribute to scientific research and to transfer to industry by organizing scientific events such as conferences and workshops. Please select the event of interest form the list in the sidebar to get direct access the event's website.
Modellierung 2022
Als Forum für Grundlagen, Methoden, Techniken, Werkzeuge sowie Domänen und Anwendungen der Modellierung hat sich die Fachtagung "Modellierung", die vom Querschnittsfachausschuss Modellierung der GI seit 1998 durchgeführt wird, etabliert. Sie zeichnet sich durch aktuelle Themen, lebendige Diskussionen und engagierte Rückmeldungen aus Wissenschaft und Praxis aus. – Weiterlesen...
Datum: 27.06.–01.07.2022
Ort: HAW Hamburg
IEEE INTERNATIONAL CONFERENCE ON SOFTWARE ARCHITECTURE (ICSA 2019)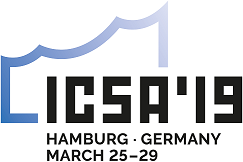 ICSA is the premier venue for practitioners and researchers interested in software architecture, in component-based software engineering and in quality aspects of software and how these relate to the design of software architectures. ICSA has a strong tradition as a working conference, where researchers meet practitioners and software architects can explain the problems they face in their day-to-day work and try to influence the future of the field. ...read more
Date: 25.-29.03.2019
Place: Dorint Hotel Hamburg Eppendorf
MBEES - Modellbasierte Entwicklung Eingebetteter Systeme
Ziel des Workshops ist der Austausch über offene Probleme, gewonnene Erfahrungen, und neue Ansätze zwischen den verschiedenen Disziplinen (Elektronik, Mechatronik, Informatik) sowie zwischen Industrie und Universität im Umfeld der modellbasierten Entwicklung eingebetteter und Software-intensiver Systeme. Derzeit gewinnen neben den klassischen Anforderungen wie Zuverlässigkeit und Korrektheit Forderungen nach Security zunehmend an Gewicht und erfordern eine Abwägung der Ziele. 
MBEES-2018: 16.-18.04.2018 (Details)
MBEES-2017: 15.-17.03.2017 (Details)
MBEES-2016: 30.03-01.04.2016 (Details)
Tutorial: Domain Driven Design 2018
Wir laden alle an Softwareentwicklung interessierten Studierenden und Mitarbeiter des FB Informatik zu einem Tutorial zur Softwareentwurfs-Methode Domain Driven Design DDD ein.  ... read more
Zeit: 24.1.2018 14:15 – 17:15 Uhr
GI Workshop Traceability / Evolution 2017