Marion Wiese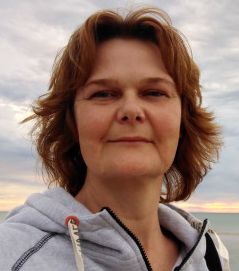 Dipl.-Inform. Marion Wiese
Research Associate
E-Mail: marion.wiese(at)uni-hamburg.de
Phone: +49-40-42883-2135
Consultation hours: appointment can be requested by e-mail at any time
Office: Building D, Room 232
currently in home office
Please contact me by e-mail

Information on the Current Situation (COVID-19)
Meetings in person are currently not possible!
The best way to contact me is via e-mail: marion.wiese(at)uni-hamburg.de
We may arrange a call (e.g. Zoom) or some other way of communication if preferred.
What happens if we treat our cars the way we treat our software systems?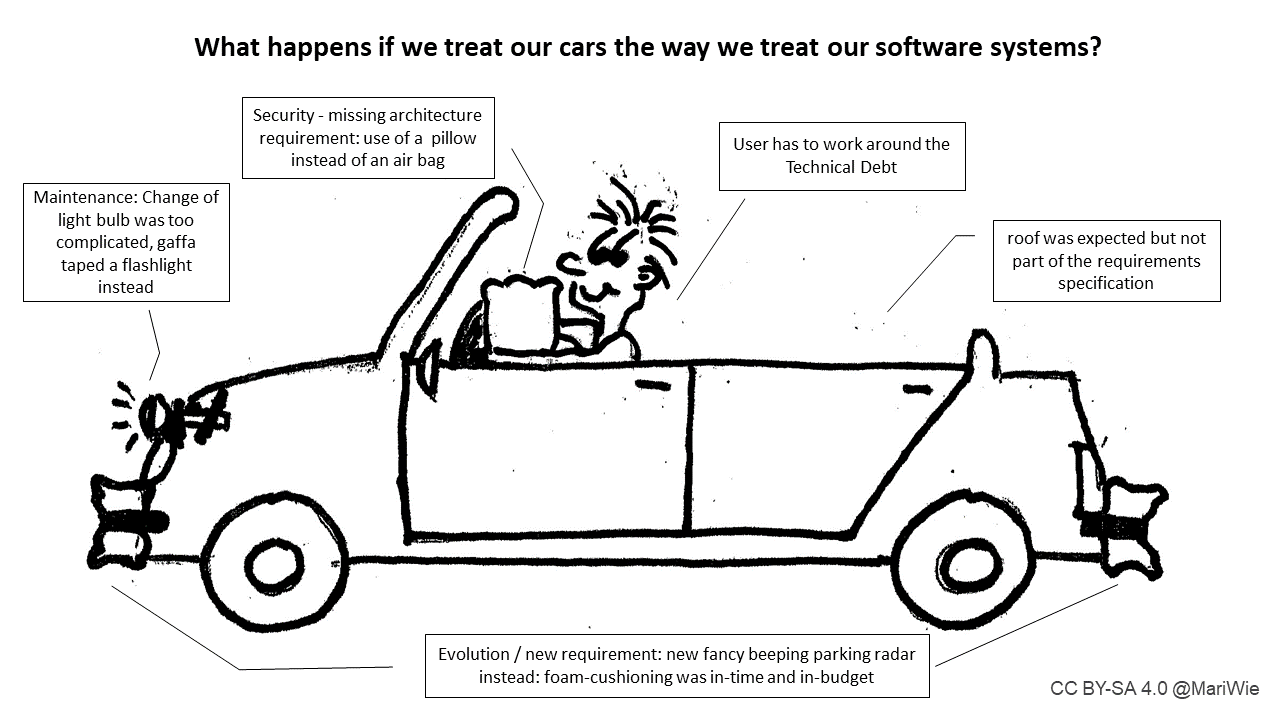 Research Interests
PhD-Project:
Strategies for Technical Debt Prevention 
This project aims for a systematic approach to identify strategies for Technical Debt (TD) prevention. Starting from the causes of TD, strategies for preventing these causes shall be identified. Causes with missing feasible strategies are identified as research gaps. Respective strategies are developed and evaluated.
These strategies encompass, amongst other things:
Raising the Awareness for TD 
A framework for managing and preventing TD
Avoidance of judgment errors when making decisions
Architecture Conformance in Architecture Evolution
Architecture Enforcemement
As part of this thesis the following project is being implemented:
Ontology-based Support for Architecture Evolution
The main focus of this project is on documenting and supporting architecture evolution and planning over time while avoiding Technical Debt e.g unresolved legacy. The sideline focus is on the usability of research results for practical use and industry projects.
Further research interests:
Software architecture
architecture evolution
emerging architecture styles and patterns(Microservices, SaaS, IoT)
architecture recovery and reconstruction
architecture traceability
architecture documentation and knowledge management
architecture technical debt
architecture enforcement
Software Maintenance and Reengineering
working with legacy code / legacy systems
Publications
Accepted:
Klara Borrowa, Marion Wiese, Dalila Tamazalit, Claudine Allen, Apitchaka Singjai,   "A Marketplace for Industrial Case Studies in Software Engineering" in 8th ACM Celebration of Women in Computing: womENcourage™ 2021,
Published:
Marion Wiese, Matthias Riebisch, Julian Schwarze, "Preventing Technical Debt by Technical Debt Aware Project Management", in 4th International Conference on Technical Debt 2021, TechDebt2021, online
Mohamed Soliman, Marion Wiese, Yikun Li, Matthias Riebisch, and Paris Avgeriou "Exploring Web Search Engines to Find Architectural Knowledge", in 2021 IEEE 18th International Conference on Software Architecture (ICSA) (pp. 162-172). IEEE. doi: 10.1109/ICSA51549.2021.00023
Marion Wiese, "Introducing a Framework for Managing Technical Debt Developed by Practitioners", 22. Workshop Software-Reengineering und -Evolution (WSRE22), 16–18 September 2020, Universität Paderborn (p.37/38). Published online 
Teaching
Wintersemester 2021/2022 (in Planung)
Vorlesung Architekturzentrierte Softwareentwicklung (InfM-SWA)
Integriertes Seminar Architekturzentrierte Softwareentwicklung (InfM-SWA)
Masterprojekt Software-Engineering (Teil 2) (64-860 P2/ InfM-SE)
Sommersemester 2020
Masterprojekt Software-Engineering (Teil 1) (64-860 P1/ InfM-SE)
Integriertes Seminar Software-Engineering (64-860 S/ InfM-SE)
Übungen zu Software Entwicklung II (64-012 / InfB-SE2)
Wintersemester 2020/2021
Integriertes Seminar Architekturzentrierte Softwareentwicklung (64-427/ InfM-SWA)
Sommersemester 2020
Short CV
2001- 2020

Gruner+Jahr GmbH & Co KG 
Software Architect / Senior Developer

2018 - 2020: AdAlliance
defining and optimizing the integration architecture for a system of systems (Informatica Power Center, BizTalk)
2012 - 2020: Media Analytics and Research System (MARS)
architecture, development and maintainance of a business intelligence application to replace the legacy system (MSSQLServer, Star Schema- and Data Vault Modelling, ETL: Informatica Power Center + SSIS, Automic Workflow Engine, SAP Powerdesigner)
2010-2012: PZ-Online
support and maintainance of www.pz-online.de including a master data managment tool (C#/dotNet, Perl, CGI, PHP)
2005-2009: ITIL Introduction
tool development and support for incident, change, problem and configuration management including a master data managment tool (rule-based development, C#/dotNet)
2001- 2005 KIMBA - magazin subscription management
development and project management focussing accounting and international payment transactions (incl. euro-conversion project) (C++, Oracle PL/SQL)

2000 - 2001
Gruner+Jahr GmbH & Co KG
Student Assistent
KIMBA - magazin subscription management
2000
Otto GmbH & Co KG
Intern
Database application (Access 2000)
1998 - 1999
Universität Hamburg, FB Informatik, AB Angewandte und Sozialorientierte Informatik
Student Assistent
ECOBAS project (C)
1997 - 1998
Spar Handels AG
Working Student
Quality Assurance
1994 - 2001
Universität Hamburg, FB Informatik
Diplom-Student
Diplom-Thesis "Konzeption und Implementation einer Konvertierers zur Umsetzung von strukturierten Modellbeschreibungen in ausführbare Simulationsprogramme am Beispiel ökologischer Teilmodelle"