8 March 2018, by Burhan Hafez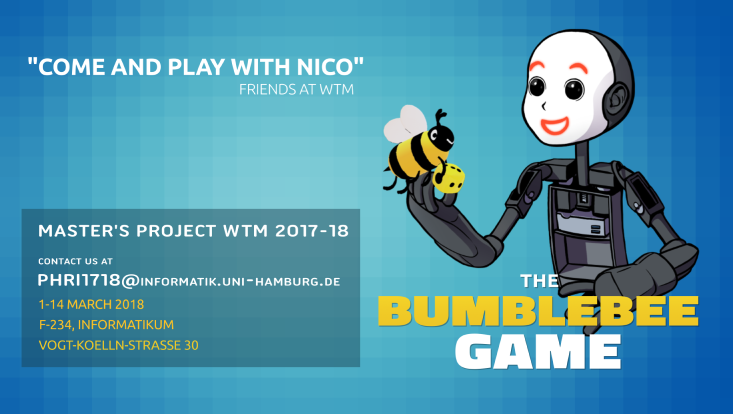 Photo: UHH/Knowledge Technology
Knowledge Technology's student project group invite you to join the user study which is conducted as part of our semester project in Human-Robot Interaction. The user study is scheduled to take place between the 1st - 14th of March 2018, at the Knowledge Technology Group (WTM) at the Informatikum campus (Stellingen).
Your participation in the user study experiment will give you the opportunity to directly interact and play a game with our robot, NICO. The purpose of this experiment is to increase our understanding of how NICO is perceived and experienced by new users. As soon as your interaction with NICO is completed, you will fill in a questionnaire to rate your experience. Your responses and personal information will be kept confidential during the analysis and in the write up of our findings. The complete experiment is expected to take 30 to 45 minutes of your time.
If you are 18 years old and above, and have a good grasp of the English language, you are an ideal candidate to help with the experiment. Please book yourself a session at the Doodle link below, by selecting the three most suitable time-slots for your participation. Your participation and time-slot will be confirmed via email. Therefore it is important to ensure that your email address is added in the comment of your vote.
Registration link:
- https://goo.gl/VXpvix
If you have any further questions, feel free to contact us on the following
email addresses:
6xirakia@informatik.uni-hamburg.de
6barykin@informatik.uni-hamburg.de
---