Software
This page contains selected Open Source software projects created by the Knowledge Technology Group.
Grow-When-Required Networks
This repository contains 3 types of extensions of the Grow-When-Required (GWR) self-organizing neural network by Marsland et al. (2002):
https://github.com/knowledgetechnologyuhh/gwr_parisi
Use demo files for off-the-shelf functionalities such as: create, train, test, save, import, and plot networks.
- Associative GWR (AGWR; Parisi et al., 2015) - Standard GWR extended with associative labelling for learning label histograms for each neuron.
- GammaGWR (Parisi et al., 2017) - GWR neurons are equipped with a number of context descriptors for temporal processing.
- GammaGWR+ (Parisi et al., 2018) - GammaGWR for incremental learning with temporal synapses and an additional option for regularized neurogenesis. GammaGWR+ implements intrinsic memory replay via recurrent neural activity trajectories (check incremental_demo.py).
References:
[Marsland et al., 2002] Marsland, S., Shapiro, J., and Nehmzow, U. (2002). A self-organising network that grows when required. Neural Networks, 15(8-9):1041-1058.
[Parisi et al., 2015] Parisi, G.I., Weber, C., Wermter, S. (2015) Self-Organizing Neural Integration of Pose-Motion Features for Human Action Recognition. Frontiers in Neurorobotics, 9(3).
[Parisi et al., 2017] Parisi, G.I., Tani, J., Weber, C., Wermter, S. (2017) Lifelong Learning of Human Actions with Deep Neural Network Self-Organization. Neural Networks, 96:137-149.
[Parisi et al., 2018] Parisi, G.I., Tani, J., Weber, C., Wermter, S. (2018) Lifelong Learning of Spatiotemporal Representations with Dual-Memory Recurrent Self-Organization. arXiv:1805.10966.
Contact:
A Neurorobotic Experiment for Crossmodal Conflict Resolution in Complex Environments
Crossmodal conflict resolution is a crucial component of robot sensorimotor coupling through interaction with the environment for swift and robust behavior also in noisy conditions. In this paper, we propose a neurorobotic experiment in which an iCub robot exhibits human-like responses in a complex crossmodal environment. To better understand how humans deal with multisensory conflicts, we conducted a behavioral study exposing 33 subjects to congruent and incongruent dynamic audio-visual cues. In contrast to previous studies using simplified stimuli, we designed a scenario with four animated avatars and observed that the magnitude and extension of the visual bias are related to the semantics embedded in the scene, i.e., visual cues that are congruent with environmental statistics (moving lips and vocalization) induce a stronger bias. We propose a deep learning model that processes stereophonic sound, facial features, and body motion to trigger a discrete response resembling the collected behavioral data. After training, we exposed the iCub to the same experimental conditions as the human subjects, showing that the robot can replicate similar responses in real time. Our interdisciplinary work provides important insights into how crossmodal conflict resolution can be modeled in robots and introduces future research directions for the efficient combination of the sensory drive with internally generated knowledge and expectations.
Source Code:
https://github.com/knowledgetechnologyuhh/CML_A5_Neurorobotic_IROS2018
License and more information:
https://www.inf.uni-hamburg.de/en/inst/ab/wtm/research/cml.html
Contact:
Pablo Barros, German I. Parisi, Stefan Wermter
Reference:
Parisi, G. I., Barros, P., Fu, D., Magg, S., Wu, H., Liu, X., Wermter, S. A Neurorobotic Experiment for Crossmodal Conflict Resolution in Complex Environments. Submitted to: IEEE/RSJ International Conference on Intelligent Robots and Systems (IROS), 2018.

Emotion Appraisal and Empathy Models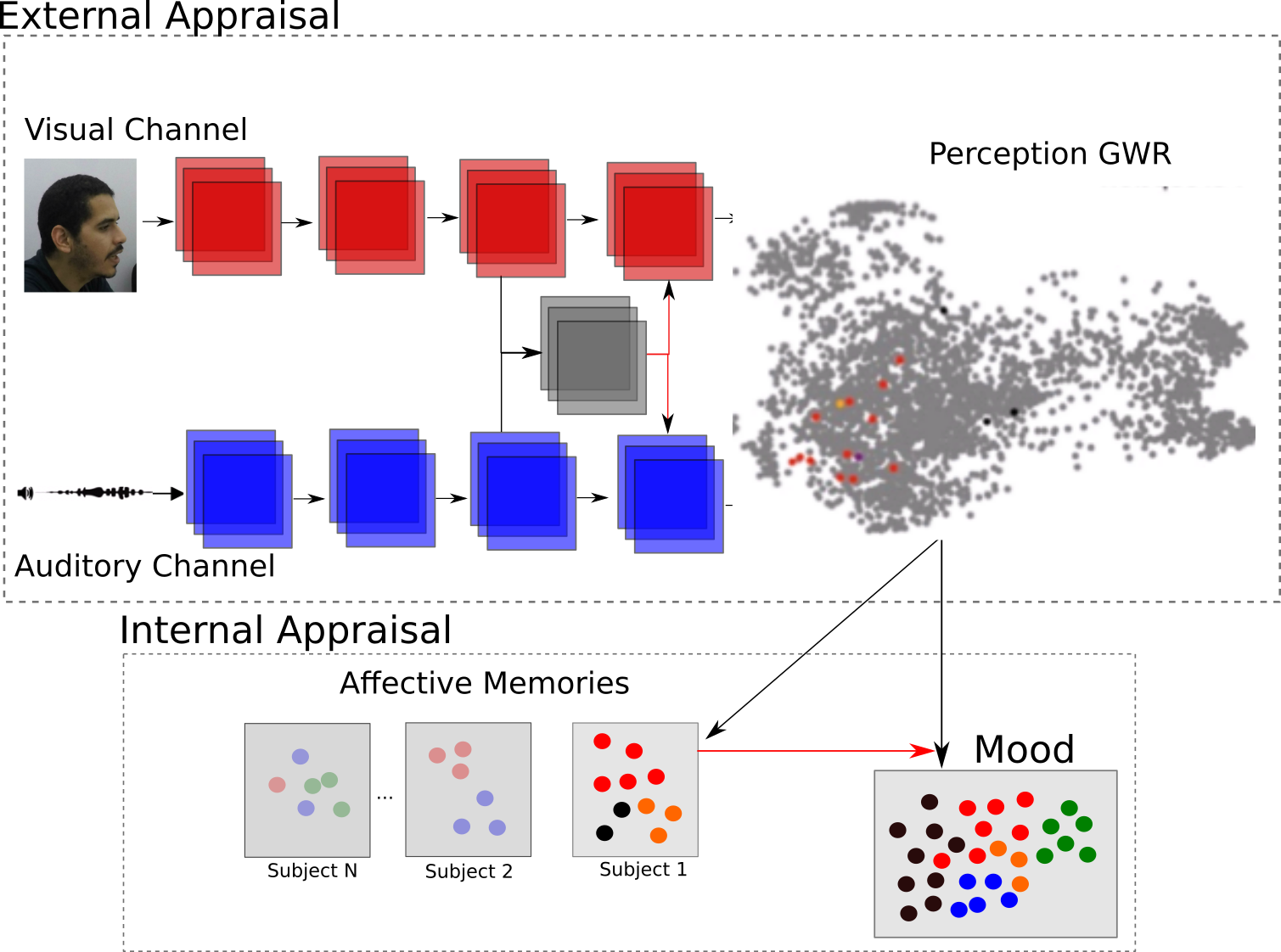 Emotions are related to many different parts of our lives: from the perception of the environment around us to different learning processes and natural communication. They have an important role when we talk to someone when we learn how to speak, when we meet a person for the first time, or to create memories about a certain experience in our childhood. Because of this crucial role in a human's life, studies on emotions date from the first centuries of written history and until today it is a very popular research field involving a lot of different disciplines: from neuroscience and psychology to artificial intelligence and robotics.
The research field of affective computing introduces the use of different emotional concepts in computational systems. Imagine a robot which can recognize spontaneous expressions and learn with it how to behave in a certain situation, or yet it uses emotional information to learn how to perceive the world around it. This is among the hardest challenges in affective computing: how to integrate emotion concepts in artificial systems to improve the way they perform a task, like communication or learning. One of the most important aspects of affective computing is how to make computational systems recognize and learn emotion concepts from different experiences, for example in human communication. Although several types of research were done in this area in the past two decades, we are still far away from having a system which can perceive, recognize and learn emotion concepts in a satisfactory way.
This repository contains different solutions for emotion appraisal and artificial empathy. The models available in this repository use different computational concepts to solve each of these problems and implement solutions which proved to enhance the performance and generalization when recognizing emotion expressions.
Source Code:
https://github.com/knowledgetechnologyuhh/EmotionRecognitionBarros
Contact:
References
Alves de Barros, P. V. (2017). Modeling Affection Mechanisms using Deep and Self-Organizing Neural Networks.  

Barros, P., & Wermter, S. (2016). Developing crossmodal expression recognition based on a deep neural model. Adaptive behavior, 24(5), 373-396.

Barros, P., & Wermter, S. (2017, May). A self-organizing model for affective memory. In Neural Networks (IJCNN), 2017 International Joint Conference on (pp. 31-38). IEEE.

Source code of Ball Localization CNN - Paper (RoboCup, 2016)

This is the source code (Python) for the paper "Ball Localization for Robocup Soccer using Convolutional Neural Networks", which proposes a new approach for localizing the ball in RoboCup humanoid soccer. A deep neural architecture is used without any preprocessing at all. The localization part gets solved by a convolutional neural network that is trained with probability distributions on full images. No sliding-window approach is used. The paper was written in the context of the Bachelor Thesis of Daniel Speck. The paper won the Best Paper Award for Engineering Contribution at the 20th Annual RoboCup International Symposium 2016 in Leipzig, Germany.
Source Code:
https://github.com/Daniel451/BachelorThesis
Contact:
Pablo Barros, Cornelius Weber, Stefan Wermter
Reference:
| | |
| --- | --- |
| D. Speck, P. Barros, C. Weber, S. Wermter (2016) Ball Localization for Robocup Soccer using Convolutional Neural Networks. RoboCup 2016: Robot World Cup XX. | |
Domain- and Cloud-based Knowledge for Speech Recognition - DOCKS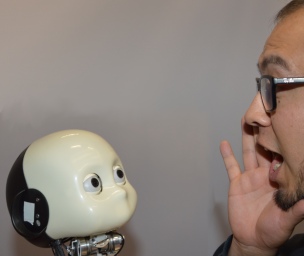 Google, Apple, Bing, and similar services offer very good and easily retrievable cloud-based automated speech recognition (ASR) for many languages and are taking advantage of constant improvements on the server side. However, these ASR systems cannot be adapted with domain knowledge (e.g. by restricting the recognizer to a fixed vocabulary, grammar, or statistical language model) which may result in poor application performance.

To address this gap, the Knowledge Technology group developed DOCKS (Domain- and Cloud-based Knowledge for Speech recognition), which combines the well trained acoustic models of the cloud services with domain-specific knowledge. It has been shown that DOCKS can improve the results of a cloud-based system like Google speech significantly if the domain can be restricted.
Source Code:
https://github.com/knowledgetechnologyuhh/docks
Contact:
Johannes Twiefel, MSc, Dr. Stefan Heinrich,
Professor Dr. Stefan Wermter, Dr. Timo Baumann, Dipl.-Ing. Erik Strahl
Reference:
| | |
| --- | --- |
| Twiefel, J., Baumann, T., Heinrich, S., Wermter, S. Improving Domain-independent Cloud-based Speech Recognition with Domain-dependent Phonetic Post-processing. In Brodley C.E. et al., editors, Proceedings of the 28th AAAI Conference on Artificial Intelligence (AAAI-14), pp. 1529-1535, AAAI Press. Québec, CA, 2014. | |
Source code of Syntactic Reservoir Model (PLoS ONE, 2013)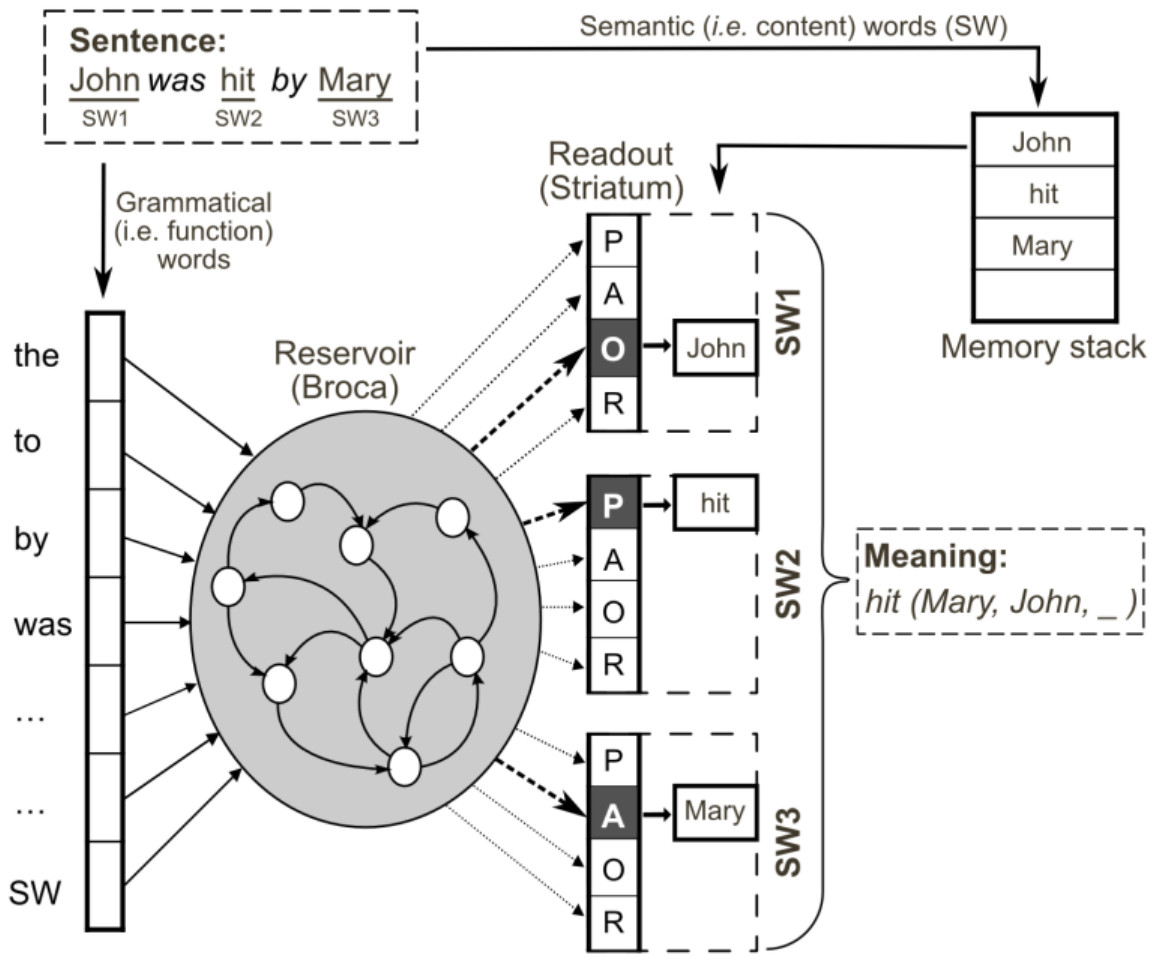 This is the source code (Python) given in supplementary material of our PLoS ONE paper of 2013. It enables to reproduce experiments of the paper and gives a full access to the model: you will be able to modify all the parameters and change the model. It uses Python libraries like Numpy, and also uses the Oger toolbox developed within the EU FP7 Organic (2009-2013) project.
Source Code:
https://sites.google.com/site/xavierhinaut/downloads
Contact:
Reference:
| | |
| --- | --- |
| X. Hinaut, P.F. Dominey (2013) Real-Time Parallel Processing of Grammatical Structure in the Fronto-Striatal System: A Recurrent Network Simulation Study Using Reservoir Computing. PloS ONE 8(2): e52946. | |
---