Dr. Johannes Twiefel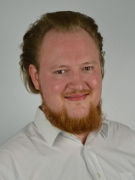 Photo: UHH/Knowledge Technology
Research and Teaching Associate
Knowledge Technology
Address
Universität Hamburg
Faculty of Mathematics, Informatics and Natural Sciences
Department of Informatics
Knowledge Technology Research Group
Vogt-Koelln-Str. 30
22527 Hamburg
Office
Room: F-222
Contact
Fax: +49 40 4273-14634
Research Interests
My research is focused on speech recognition and language understanding, in which I develop brain-inspired models based on echo state networks to be able to explain functional principles in the human brain and exploit their benefits. Currently, I am working on a system combining speech recognition and semantics which produces hypotheses in a cooperative way. I am also supervising the DOCKS project, which is focused on post-processing hypotheses from Google's cloud-based speech recognition system. Interests:
Reservoir Computing and Echo State networks
Brain-Inspired Systems, Machine Learning and Neural Networks in general
Speech Recognition and Language Understanding
Short Curriculum Vitae
| | |
| --- | --- |
| Since October 2014 | Research Associate of Knowledge Technology Research Group, Department of Computer Science, University of Hamburg, Germany |
| April 2014 | Master degree in Computer Science, University of Hamburg, Germany |
Publications
Please find Johannes Twiefel's publication list
here
.