Dr. Jae Hee Lee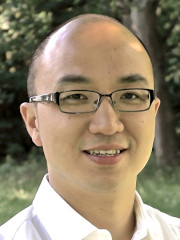 Photo: Jae Hee Lee
Postdoctoral Research Associate TRR CML Project
Knowledge Technology
Address
Universität Hamburg
Faculty of Mathematics, Informatics and Natural Sciences
Department of Informatics
Knowledge Technology Research Group
Vogt-Koelln-Str. 30
22527 Hamburg
Office
Room: F-228a
Contact
Fax: +49 40 4273-14634
Homepage: http://jaeheelee.de
About Me
I am a postdoctoral research associate in the Knowledge Technology Group, University of Hamburg. I develop representation learning models for grounded language understanding, with an emphasis on robustness and explainability. My prior work includes symbolic approaches to AI, specifically spatio-temporal reasoning and multiagent systems.
Research Interests
Multimodal Deep Learning
Explainable Artificial Intelligence
Neuro-Symbolic Artificial Intelligence
Spatio-Temporal Reasoning
Research Experience
Education
Dr. rer. nat. in Computer Science, University of Bremen, Germany (2009–2013)
Visiting PhD student, North Carolina State University, USA (2012)
Visiting PhD student, University at Buffalo, USA (2011)
Diplom in Mathematics, University of Bremen, Germany (2003–2009)
DAAD exchange student, Seoul National University, South Korea (2008)
Research Grants and Awards
Bremen-Cardiff Alliance Collaborative Fund, Cardiff University, UK (2019)
UTS Blue Sky Research Scheme, University of Technology Sydney, Sydney (2017)
Feodor Lynen Research Fellowship, Alexander von Humboldt Foundation, Germany (2016–2017)
Fachbereichspreis Mathematik (diploma thesis award), University of Bremen (2009)
DAAD-KOSEF Scholarship, DAAD, Germany (2008)
Third Prize at the Regional Contest Jugend Forscht Bremen (2001)
Senator-Friedrich-Cordewener-Prize at the Regional Contest Jugend Forscht Bremen (2001)
Recent Teaching Activities
Lecture on "Transformers and Crossmodal Learning", University of Hamburg (2023) [Slides]
Supervisor, Neural Networks Seminar, University of Hamburg (2023)
Organizer, WISDUM Reading Group, Knowledge Technology, University of Hamburg (2023)
Supervisor, Bio-inspired Artificial Intelligence Seminar, University of Hamburg (2022)
Thesis Supervision
Generalization of Transformer-Based Models on Visual Question Answering Tasks, Frederic Voigt, MSc (2023)
Improving Compositional Generalization By Learning Concepts Individually, Ramtin Nouri, MSc (2023)
Learning Concepts a Developmental Lifelong Learning Approach to Visual Question Answering, Ramin Farkhondeh, BSc (2022)
Benchmarking Faithfulness: Towards Accurate Natural Language Explanations in Vision-Language Tasks, Jakob Ambsdorf, MSc (2022), now PhD student at University of Copenhagen
Tackling The Binding Problem And Compositional Generalization In Multimodal Language Learning, Caspar Volquardsen, BSc (2021), ICANN 2022
Learning Bidirectional Translation Between Robot Actions and Linguistic Descriptions, Markus Heidrich, BSc (2021)
Using the Reformer for Efficient Summarization, Yannick Wehr, BSc (2020)
Generalization in Multi-Modal Language Learning from Simulation, Aaron Eisermann, BSc (2020), IJCNN 2021
Commonsense Validation and Explanation, Christian Rahe, BSc (2020)
Blog Posts
News
Selected Papers
Multimodal Deep Learning:
Explainable Artificial Intelligence:
J. H. Lee, S. Lanza, S. Wermter, From Neural Activations to Concepts: A Survey on Explaining Concepts in Neural Networks, (under review).

B. Plüster, J. Ambsdorf, L. Braach, J. H. Lee, S. Wermter, Harnessing the Power of Multi-Task Pretraining for Ground-Truth Level Natural Language Explanations, arXiv preprint, 2022. [Code]
Neuro-Symbolic Reasoning:
J. H. Lee, M. Sioutis, K. Ahrens, M. Alirezaie, M. Kerzel, S. Wermter, Neuro-Symbolic Spatio-Temporal Reasoning, in Compendium of Neurosymbolic Artificial Intelligence, IOS Press, 2023, pp. 410–429 [arXiv Preprint]

J. H. Lee et al. Spatial relation learning in complementary scenarios with deep neural networks, Frontiers in Neurorobotics, 2022. [Code]
Other Machine Learning Topics:
M. Li, X. Zhao, J.H. Lee, C. Weber, S. Wermter, Internally Rewarded Reinforcement Learning, ICML 2023 [Project page] [Code].
J.H. Lee, J. Camacho-Collados, L. Espinosa Anke, S. Schockaert, Capturing Word Order in Averaging Based Sentence Embeddings, ECAI 2020. [Code]
S. Kong, J. Bai, J.H. Lee, D. Chen, A. Allyn, M. Stuart, M. Pinsky, K. Mills, C. Gomes, Deep Hurdle Networks for Zero-Inflated Multi-Target Regression: Application to Multiple Species Abundance Estimation, IJCAI 2020.
Spatio-Temporal Reasoning:
Multiagent Systems:
S. Kong, J.H. Lee, S. Li, Multiagent Simple Temporal Problem: The Arc-Consistency Approach AAAI 2018.
S. Kong, J.H. Lee, S. Li, A new distributed algorithm for efficient generalized arc-consistency propagation, Autonomous Agent Multi-Agent Systems 32 (2018).
S. Kong, J.H. Lee, S. Li, A Deterministic Distributed Algorithm for Reasoning with Connected Row-Convex Constraints, AAMAS 2017.