NEURAL NETWORKS: 2009 SPECIAL ISSUE - What it Means to Communicate
S. Wermter, M. Page, M. Knowles, V. Gallese, F. Pulvermüller and J. Taylor.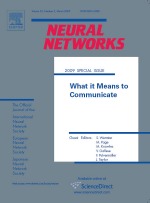 Elsevier, Volume 22, Number 2, March, 2009.
The general aim of this special issue is to focus on "What it means to communicate" and to understand the neural, cognitive, formal, computational and developmental features that have led to communication differences between humans and animals.
A number of interesting and successful research directions have been explored including learning by imitation, examining the origin of human rule based reasoning, studying the neural origins of language, exploring the evolutionary origins of the human mind, researching into verbal and nonverbal communication, using and interpreting signs, characterising human language by structural complexity, and representing abstract concepts. To complement this, computation and neural robotics aims to explore a multimodal understanding of verbal and visual communication for embodied action understanding leading towards formal models of knowledge representation and reasoning.
---
Editorial Board


Neural Networks, Volume 22, Issue 2, March 2009, Page IFC
 

Multimodal communication in animals, humans and robots: An introduction to perspectives in brain-inspired informatics


Neural Networks, Volume 22, Issue 2, March 2009, Pages 111-115
S. Wermter, M. Page, M. Knowles, V. Gallese, F. Pulvermüller, J. Taylor
 

Emergence of structured interactions: From a theoretical model to pragmatic robotics


Neural Networks, Volume 22, Issue 2, March 2009, Pages 116-125
A. Revel, P. Andry
 

Cortical basis of communication: Local computation, coordination, attention


Neural Networks, Volume 22, Issue 2, March 2009, Pages 126-133
Frederic Alexandre
 

Neural associative memories for the integration of language, vision and action in an autonomous agent


Neural Networks, Volume 22, Issue 2, March 2009, Pages 134-143
H. Markert, U. Kaufmann, Z. Kara Kayikci, G. Palm
 

Cross-modal and scale-free action representations through enaction


Neural Networks, Volume 22, Issue 2, March 2009, Pages 144-154
Alex Pitti, Hassan Alirezaei, Yasuo Kuniyoshi
 

Implicit and explicit representations


Neural Networks, Volume 22, Issue 2, March 2009, Pages 155-160
Nicolas P. Rougier
 

Discrete combinatorial circuits emerging in neural networks: A mechanism for rules of grammar in the human brain?


Neural Networks, Volume 22, Issue 2, March 2009, Pages 161-172
Friedemann Pulvermüller, Andreas Knoblauch
 

Robotic sound-source localisation architecture using cross-correlation and recurrent neural networks


Neural Networks, Volume 22, Issue 2, March 2009, Pages 173-189
John C. Murray, Harry R. Erwin, Stefan Wermter
 

Embodying meaning: Insights from primates, autism, and Brentano


Neural Networks, Volume 22, Issue 2, March 2009, Pages 190-196
Juan Carlos Gómez