Dr. Sascha Griffiths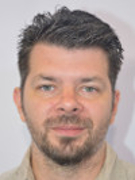 Photo: UHH/Knowledge Technology
Postdoctoral Research and Teaching Associate
Knowledge Technology
Address
Universität Hamburg
Faculty of Mathematics, Informatics and Natural Sciences
Department of Informatics
Knowledge Technology Research Group
Vogt-Koelln-Str. 30
22527 Hamburg
Office
Room: F-214
Contact
Fax: +49 40 4273-14634
---
Links
Research Interests
Social Robotics
Cognitive Robotics
Probabilistic AI
Dialogue Systems
Cognitive Science
Science and Technology Studies
In the past, I conducted research within the ITALK project, the ECHORD project and the RoboEarth project. I was also involved in the CITEC Dialogue Demonstrator. A short demo of the system can be seen here.
Short Curriculum Vitae
Since 08/2016
Postdoctoral Research and Teaching Associate
Knowledge Technology Research Group (WTM), Department of Informatics, University of Hamburg, Germany.
Current role: Programme coordinator of the MSc programme "Intelligent Adaptive Systems"
2014 - 2016
Postdoctoral Research Associate
Cognitive Science Group, School of Electronic Engineering and Computer Science, Queen Mary University of London, UK.
2012 - 2014
Research and Teaching Associate
Robotics and Embedded Systems (I6), Fakultät für Informatik, Technische Universität München, Germany.
2009 - 2012
Research Fellow
Center of Excellence 'Cognitive Interaction Technology' (CITEC), Bielefeld University, Germany.
2006 - 2009
PhD Student,
University of Kent at Canterbury, UK.
2006
M.A. degree (Magister Artium)
Bielefeld University, Germany.
Publications
Please find Sascha Griffiths's publication list
here
.