Dr. Sven Magg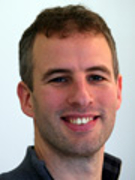 Photo: UHH/Knowledge Technology
Postdoctoral Teaching Associate
Knowledge Technology
Address
Universität Hamburg
Faculty of Mathematics, Informatics and Natural Sciences
Department of Informatics
WTM Research Group
Vogt-Koelln-Str. 30
22527 Hamburg
Office
Room: F-210
Contact
Fax: +49 40 4273-14634
---
You can find here ...
---
Research Interests
Neural Networks (Neuromodulation in artificial neural networks, evolution of neural network controllers for artificial agents)
Evolution (Evolution of artificial agents and agent controllers, especially evolution of neural networks and body plans)
Self-Organisation in Biological and Bio-Inspired Systems (Task Differentiation, emergent behaviour, specialisation, collective/swarm robotics)
See also: Neuro-inspired Human-Robot Interaction

For Bachelor or Master theses:
Please contact me for possible projects in these areas and we can discuss your ideas.
---
Teaching
Master Level:
Winter
Summer

I'm currently not involved in any MSc teaching in summer
Bachelor Level
I'm currently not involved in any BSc teaching.
---
Short Curriculum Vitae
since June 2011
Postdoctoral Teaching Associate, Knowledge Technology Research Group,
Department of Computer Science, University of Hamburg, Germany
Current roles: Programme coordinator of the MSc programme "Intelligent Adaptive Systems"
April 2012
PhD in Computer Science, Thesis: "Self-Organised Task Differentiation in Homogeneous and Heterogeneous Groups of Autonomous Agents",
Adaptive System Research Group, University of Hertfordshire, United Kingdom.
July 2005
Postgraduate Certificate in "Learning and Teaching in Higher Education",
University of Hertfordshire, United Kingdom
September 2005
MSc "Intelligent Systems", University of Sussex, Brighton, United Kingdom.
Thesis "CTRNNs and GasNets: A Comparison in Terms of Evolvability"
September 2003
BSc "Computational Engineering", University of Erlangen-Nuremberg, Erlangen, Germany.
Thesis "FFPop: Forward Chaining and Partial-Order Planning Combined"
---
Publications
Please find Dr. Sven Magg's publication list
here
.