NICO - The Neuro-Inspired COmpanion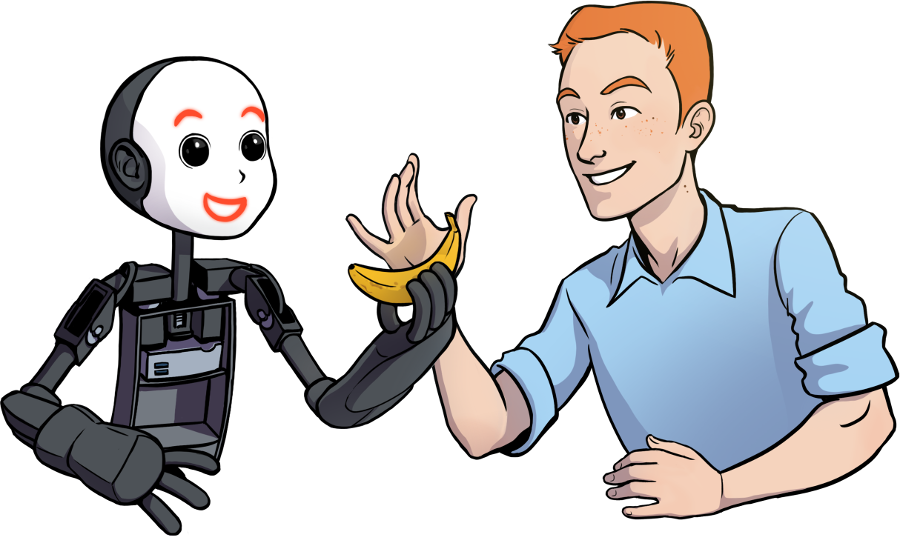 Here is our latest video showing the NICO skills:
Interdisciplinary research, drawing from robotics, artificial intelligence, neuroscience, psychology, and cognitive science, is a cornerstone to advance the state-of-the-art in multimodal human-robot interaction and neuro-cognitive modelling. Research on neuro-cognitive models benefits from the embodiment of these models into physical, humanoid agents that possess complex, human-like sensorimotor capabilities for multimodal interaction with the real world. For this purpose, we develop and introduce NICO (Neuro-Inspired COmpanion), a humanoid developmental robot that fills a gap between necessary sensing and interaction capabilities and flexible design. This combination makes it a novel neuro-cognitive research platform for embodied sensorimotor computational and cognitive models in the context of multimodal interaction. The platform is Open Source since we believe that NICO can successfully support developmental and cross-modal research and can be further developed by the community in many directions.
Introduction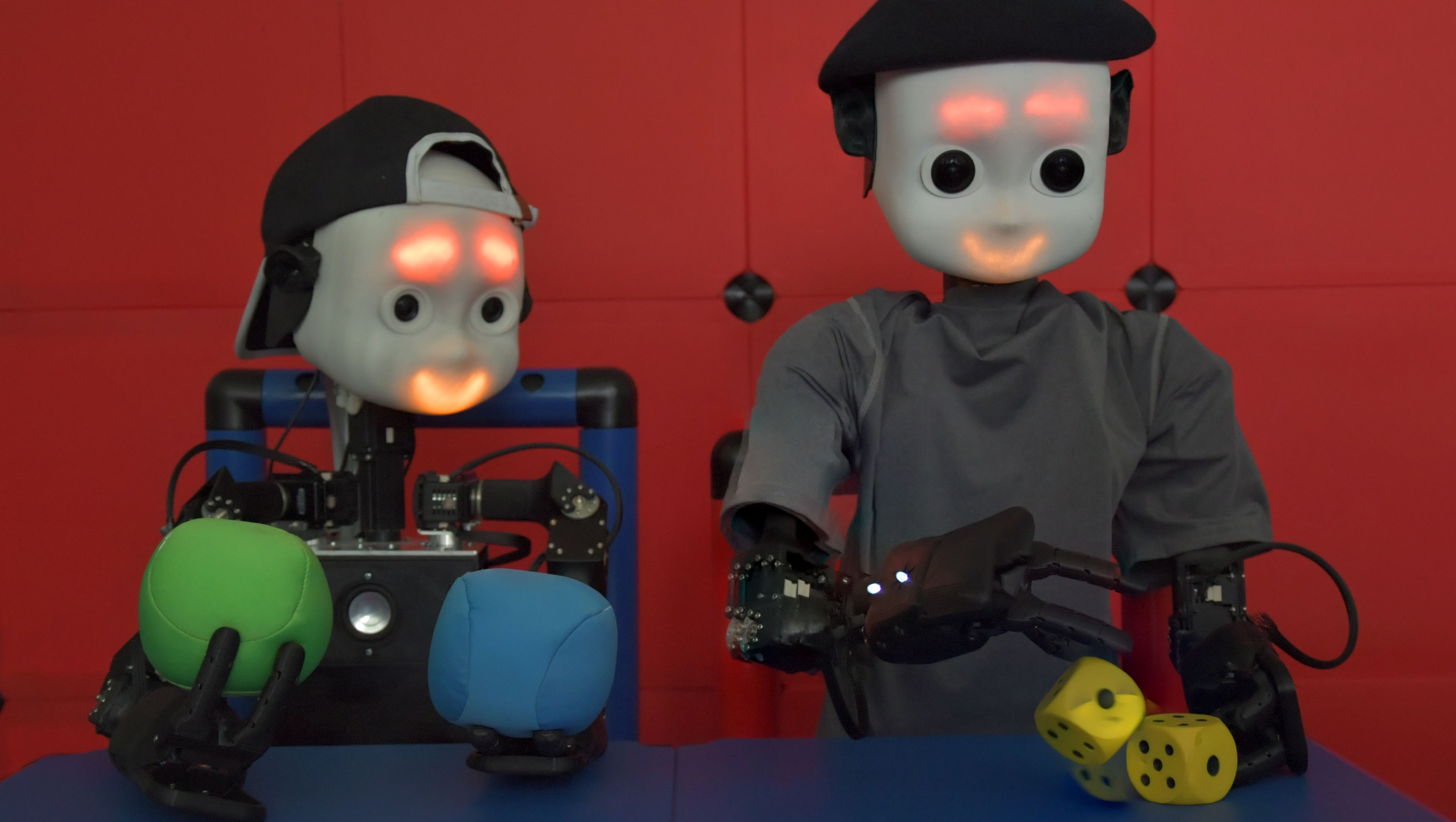 Robotic platforms with human-like sensorimotor capabilities are essential for research on neuro-cognitive models and multimodal human-robot interaction. Human-like sensorimotor capabilities allow for the adaptation of neuro-cognitive theories for the bio-inspired development of computational models. Conversely, only a robot with such capabilities can be used to evaluate theories and models about human sensorimotor abilities.
Current research on developmental robotics focuses on instructing or teaching robots to perform tasks instead of programming abilities explicitly. Since humans are experts on how to perform tasks with a human body, it is advantageous that robots have anthropomorphic bodies to teach them in a natural and intuitive manner. Furthermore, a human-like appearance is essential for research on human-robot interaction where the robot displays non-verbal social communication cues like gestures, facial expressions, or body postures. The anthropomorphism of developmental robots also plays an important role in safe human-robot interaction, simply by having human-like dynamics that make their movements more predictable. Finally, service robots benefit from an anthropomorphic form because they are supposed to operate in an environment designed by and for humans.
To support fast training of neural network models and facilitate quick prototyping and testing, we also developed a URDF model to be able to use a simulated NICO version in physics simulators like V-REP or Gazebo. These simulated versions can be of different granularity depending on whether the focus is on speed or accuracy.  
History
Comparing the available robot platforms against the requirements, it became apparent that there is a gap for affordable as well as flexible and modular humanoids with rich sensorimotor capabilities for multimodal human-robot interaction.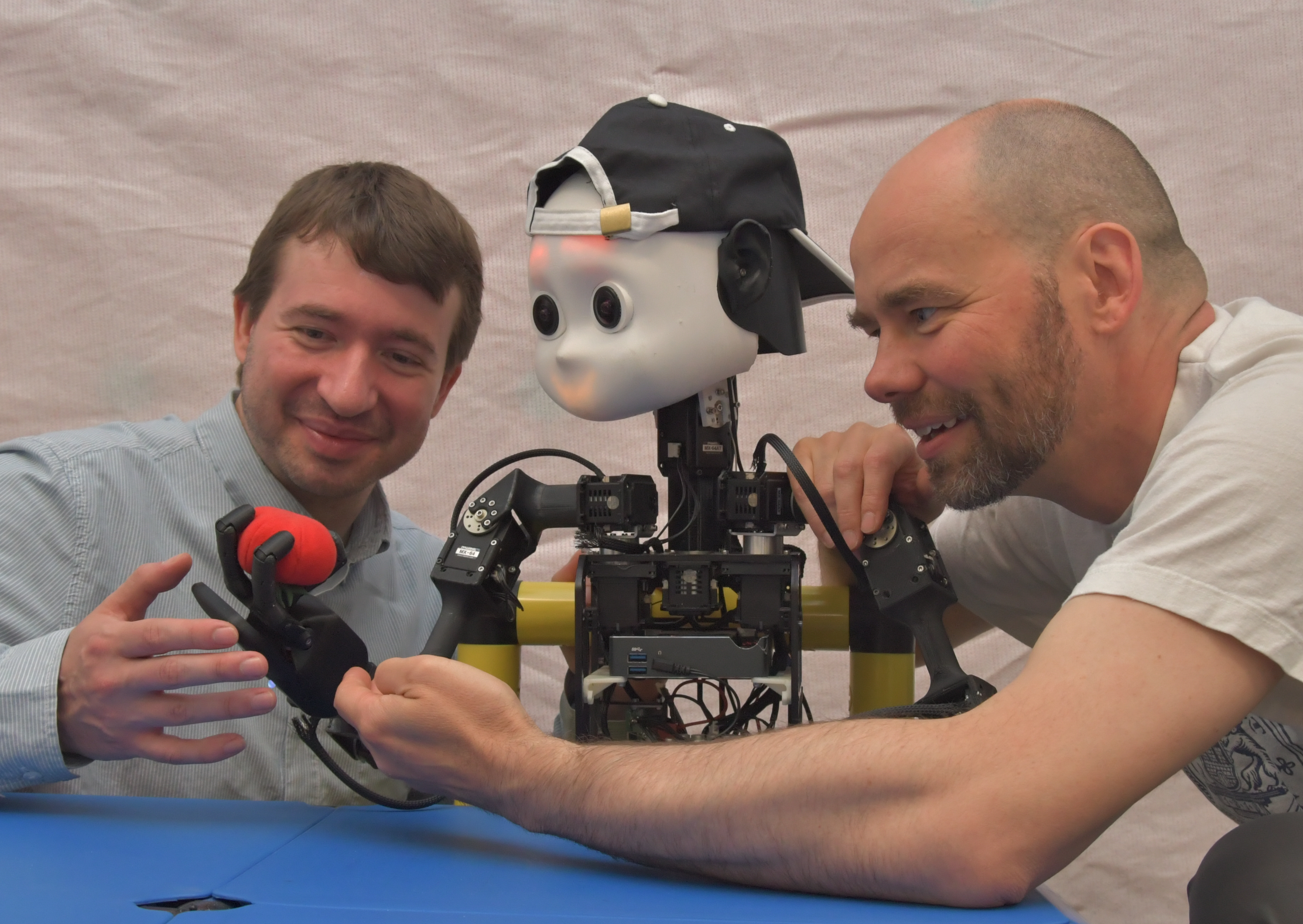 NICO was developed on the basis of the first version of NimbRo-OP and likewise, features a humanoid anatomy resembling a child. The NimbRo-OP robot from the AIS group of the University of Bonn was designed as an open robot for the RoboCup TeenSize league. Thus, many features useful for human-robot interaction (HRI) research are left out in its design, such as arms and hands with high numbers of DoF. The open design of the robot, however, allows the development and integration of extensions for HRI research. A major limitation of NimbRo-OP was its software framework optimized for robot soccer which, to our knowledge, has not been used outside the original group. Nevertheless, the hardware provided an ideal base to add the functionality we needed for our research.
A similar platform, the Poppy robot, features a well documented and by now widely used software framework in Python. This general purpose library (PyPot library 4 ) to control Robotis Dynamixel servo motors, facilitates the development of any project including such motors. But Like NimbRo-OP, Poppy has non-actuated hands and the amount, as well as the type of available sensors in the current design, were not sufficient for multimodal interaction research. We decided to bring both developments together and to extend the Nimbro-OP with the needed sensing capabilities and a newly designed torso with more flexible arms and hands and to extend the PyPot library towards a NICO API to make use of the new functionality.
Thus, NICO was born!
Resources
The technical details of the NICO and how to build them can be found on the subpages "Technical Details" and "Building NICO". 
If you use the NICO robot, the software API, the NICO CAD files, or any parts of each, please cite the following paper:
Matthias Kerzel, Erik Strahl, Sven Magg, Nicolás Navarro-Guerrero, Stefan Heinrich, Stefan Wermter. NICO – Neuro-Inspired COmpanion: A Developmental Humanoid Robot Platform for Multimodal Interaction. Proceedings of the IEEE International Symposium on Robot and Human Interactive Communication (RO-MAN). pages 113 - 120. Lisbon, Portugal. 2017.
We have put together two GitHub repositories where we have published the CAD files necessary to print NICO's plastic parts as well as the software API that we have developed. You can find licensing information for both repositories on the individual web pages:
 >> 3D-Print Files: knowledgetechnologyuhh/NICO-cad 
>> Software API:  knowledgetechnologyuhh/NICO-software
You can also contact us by e-Mail: UHH NICO Team(strahl"AT"informatik.uni-hamburg.de)