20 September 2019, by Björn Schmidt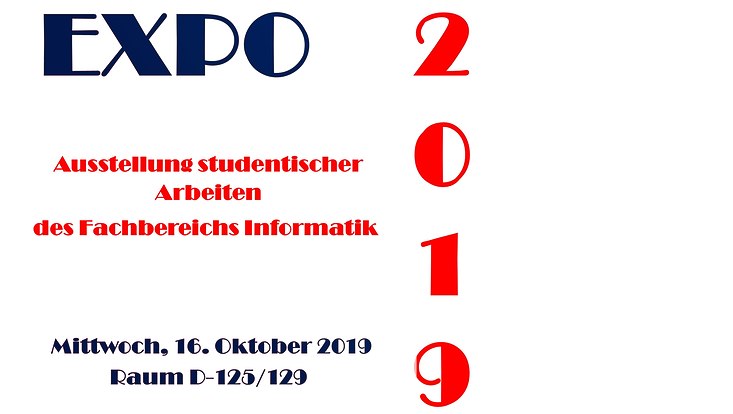 Photo: Björn Schmidt
The prices are fixed. 1st price - one tablet 2nd price - 300 Euro 3rd price - 150 Euro
The exhibition will take place on Wednesday, 16 October 2019 from 14:00 to 16:00 (set-up from 13:00) in room D-125/129. You will have the opportunity to present your student work (results from bachelor and master theses, projects and internships). Exhibits (prototypes) can be computer demonstrations and posters, but also other suitable demonstrations.
By participating, you not only have the opportunity to present yourself to other students, but also to companies. A jury consisting of two company representatives and a professor will choose the best three exhibits.
All students who would like to exhibit their work can register by email from now until October 01, 2019 at bschmidt@informatik.uni-hamburg.de.
Please indicate the working title, type of exhibit, working area and supervisor, space requirements, required technical infrastructure and contact person.
An exhibition guide will be published. For this purpose, all exhibitors are requested to submit a short description of their exhibit of no more than 300 words by 01 October 2019.
We are looking forward to your exhibits!
Your EXPO organisation team
---