VITALabs: Living Labs for laboratory and field studies to evaluate virtual therapies
VITALabs: Living Labs for laboratory and field studies to evaluate virtual therapies
The VITALabs Project aims at evaluating and improving virtual therapies for the healthcare sector, with a focus on tracking and analysing (full-body)-movements. The goal is to setup and employ three different labs:
The VITALab.First will be a lab located at the "University of Hamburg", with the focus on testing and evaluating new applications with ordinary and healthy subjects. Only when a therapy proves to have positive effects regarding health or happiness, paired with appropriate usability and user experience, it can be evaluated in the VITALab.One or VITALab.Mobile as a field study.
The VITALab.One will be a lab located at the "Hospital zum Heiligen Geist" in Hamburg. This lab will allow the realisation of field studies. Virtual therapies can be evaluated here with real patients, allowing to test the effectiveness, usability, user experience, acceptance and long term benefits in regards to your real target audience.
The VITALab.Mobile will be a mobile lab mounted on a truck, constructed by the "BEUTH Hochschule für Technik Berlin". Its goal is to bring virtual therapies to rural areas, that can?t afford to have a stationary lab for their own. This lab can also be used to execute field studies for the evaluation of new therapies.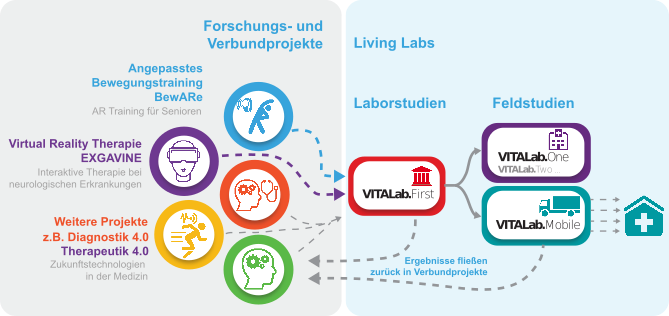 The first two projects that make use of the VITALabs are the EXGAVINE project (movement based games as a therapy for neurological diseases) and the BewARe project (sensor based movement training for seniors with an intelligent augmented reality system).
External projects that work on virtual therapies the context of healthcare are invited to contact us, so we can discuss possible collaborations.
Further information
https://www.inf.uni-hamburg.de/en/inst/ab/hci/news/20181115-living-labs.html 
https://www.technik-zum-menschen-bringen.de/projekte/vitalab 
Contacts
Sebastian Rings and Caspar Prasuhn