Mohamed Aboubakr Soliman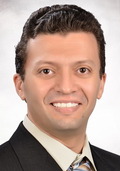 Dr. Mohamed Aboubakr Soliman
Post-doc researcher
Email: soliman(at)informatik.uni-hamburg.de
Phone: +49-40-42883-2711
Office: Building D, Room 230
---
Short Bio
Mohamed A. Soliman is a PhD student in the Software Engineering and Construction Methods Group (SWK) in the Department of Computer Science at Universität Hamburg. He received his Bachelor degree in Computer and Systems Engineering from Ain-Shams University, Egypt in 2005. After graduation, he worked as a software engineer in Hewlett-Packard (HP) for 7 years. Within this period, he gained much experience in software development. He designed and implemented applications using different technologies and methods. His main interest is software design, starting from object-oriented design to high-level system architecture. He got promoted in different technical positions; developer, technical leader and software architect. During his work in HP, he got his master degree with thesis topic 'object-oriented design patterns mining'. His recent work in software architecture within HP and his research passion motivated him to join the SWK team in April 2013.
Research Interests

Software Architecture

Architectural Design Decisions
Architecture Knowledge
Architecture Styles and Patterns
Architecture Design Methods
Object Oriented Design
Reverse Engineering
Software Reengineering
Education and Industrial Experience
04/2013 – 12/2018 – PhD Student, DAAD Scholarship, Universität Hamburg
04/2006 – 01/2013 – Software Engineer & Technical Leader in Hewlett Packard (HP)
01/ 2011 – Master of Science (M.Sc.) in Computer and Systems Engineering, Ain-Shams University, Egypt. Thesis: 'Mining of Software Design Patterns'.
08/2005 – Bachelor of Science (B.Sc.) in Computer and Systems Engineering, Ain-Shams University, Egypt.
Membership
IEEE Computer Society Member since 2005
Topics for a Final Theses (Abschlußarbeiten)
If you are interested in any topic mentioned in the list of research interests above, please feel free to contact Mohamed Soliman or a member of the SWK team. All topics for Bachelor and Master theses are proposed on this website, please have a look at "Angebotene Themen/ Offered Topics".
---