Chris Biemann
Name:
Prof. Dr. Chris Biemann
Position:
Professor for Language Technology
Email:

biemann

"AT"

informatik.uni-hamburg.de

Phone:
+49 40 42883 2386
Fax:
+49 40 42883 2345
Office:
F-429
Address:

Informatikum

Vogt-Kölln-Straße 30

22527 Hamburg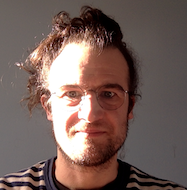 About Me
I am the head of the Language Technology group at Universität Hamburg. My PhD research was focused on unsupervised knowledge-free methods in language processing: how much structure can computers detect on their own in text data? After, I widened my scope and concentrate mainly on lexical semantics, as well as NLP applications including speech. As a group, we have deep expertise in semantic modelling of natural language text and hands-on expertise with most NLP technologies. I believe publicly funded research should be available for anyone interested in it, which is why I strive to make publications and software available in open access and open source under lenient licenses.
Work Information
Professor for Language Technology, Computer Science Dept., MIN Faculty, University of Hamburg.
My research interests are statistical, unsupervised and knowledge-free natural language processing in the structure discovery paradigm, in particular statistical semantics. Further, I am interested in leveraging crowdsourcing as a source for linguistic annotations and in the development of Cognitive Computing applications.
Bibliographical Information
I hold a Dr. rer. nat degree and a Diploma in computer science from the University of Leipzig. I joined the Internet-startup Powerset in San Francisco, which was acquired by Microsoft to become part of Bing.com, where I worked for 2 years in software development. From 2011 to 2016, I was head of FG Language Technology, Computer Science Dept. TU Darmstadt. In October 2016, I joined the Computer Science Dept. of the University of Hamburg as the head of AG Language Technology.
Personal Interests
travelling, cooking, art projects that move, garden, playing the lazerkasoo