Steffen Remus
Name:
Steffen Remus
Position:
PhD Student
Email:
remus (at) informatik․uni−hamburg․de
Phone:
+49 40 42883 2369
Fax:
+49 40 42883 2345
Office:
F-413
Address:

Informatikum

Vogt-Kölln-Straße 30

22527 Hamburg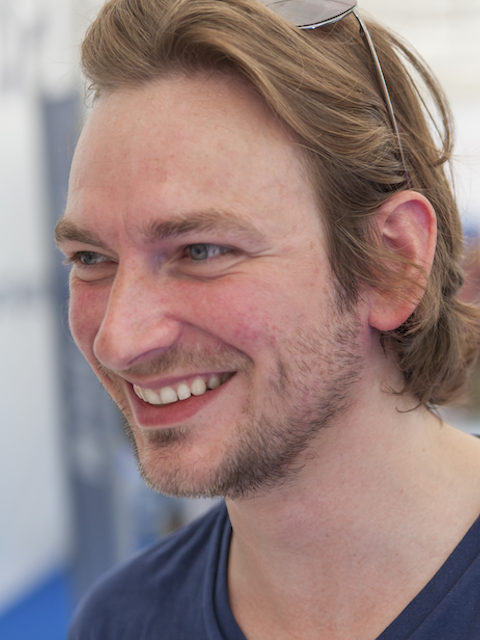 I'm a Ph.D. Student at the language technology group, under the supervision of Prof. Chris Biemann. My main interests are unsupervised methods for focused web crawling and relation extraction using distributional methods.
In the past I was a scholarship holder for the KDSL (Knowledge Discovery in Scientific Literature) program and an associate researcher in the AIPHES program.
Currently I work in a project that combines ontologies with semantically induced information from text (JOIN-T).
Teaching
Thesis Supervision
Hans Ole Hatz (2020, MA)
Tim Dobert (2019, MA)
Rami Aly (2018, BA)
Tim Fischer (2018, BA)
Alvin Rindra Fazrie (2018, MA)
Kai Brusch (2018, MA)
Joël Harms (2018, BA)
Ahmed Elshinawi (2018, Independent Study)
Dominik Sobania (2015, MA)
Dennis Werner (2015, BA)
Courses @ Universität Hamburg
Bachelorpraktikum 2017: Language Technology and Web Services - Summer 2017
Softwareentwicklung 1 - Tutoring Pratice Class - Winter Term 2016
Courses @ Technische Universität Darmstadt
Question Answering Technologies Behind IBM Watson - Summer Term 2016
Algorithms of Language Technology - Practice Class - Summer Term 2016
Question Answering Technologies Behind IBM Watson - Summer Term 2015
Workshop on IBM Watson - One day workshop, February 2015
Algorithms of Language Technology - Practice Class - Summer Term 2015 (Best Mentoring)
Algorithms of Language Technology - Practice Class - Summer Term 2014
Professional Activities
Organizational / Editorial Activities:
Workshop on IBM Watson - One day workshop, February 2015
Programme Committee Memberships / Reviewer Activities:
AAAI 2020
DGfS 2020
NLE (Journal) 2019
NAACL 2019
KONVENS 2019
EMNLP 2019
ECIR 2019
CONLL 2019
ACL 2019
IWCS 2019
LDK 2019
CONLL 2018
EMNLP 2018
ACL 2018
*SEM 2018
ESWC 2018
TextGraphs workshop 2018
ISWC 2017
RANLP 2017
GSCL 2017
EMNLP 2017
*SEM 2017
EACL 2017
TextGraphs workshop 2018
ESWC 2016
SemEval 2016
EMNLP 2016
WAC-X workshop 2016
Publications
Dirk Johannßen, Chris Biemann, Steffen Remus, Timo Baumann, and David Scheffer (2020): GermEval 2020 Task 1 on the Classification and Regression of Cognitive and Motivational style from Text. In Proceedings of the GermEval 2020 Task 1 Workshop in conjunction with the 5th SwissText &umla; 16th KONVENS Joint Conference 2020, 1–10. Zurich, Switzerland. (pdf,web)
Jingyuan Feng, Özge Sevgili, Steffen Remus, Eugen Ruppert, and Chris Biemann (2020): Supervised Pun Detection and Location with Feature Engineering and Logistic Regression. In Proceedings of the 5th SwissText & 16th KONVENS Joint Conference 2020, 3:1–6. Zurich, Switzerland. (pdf)
Varvara Logacheva, Denis Teslenko, Artem Shelmanov, Steffen Remus, Dmitry Ustalov, Andrey Kutuzov, Ekaterina Artemova, Chris Biemann, and Alexander Panchenko. 2020. Word sense disambiguation for 158 languages using word embeddings only. In Proceedings of The 12th Language Resources and Evaluation Conference, 5943–5952. Marseille, France. (pdf,web)
Gregor Wiedemann, Steffen Remus, Avi Chawla and Chris Biemann (2019): Does BERT Make Any Sense? Interpretable Word Sense Disambiguation with Contextualized Embeddings. In Proceedings of the 15th Conference on Natural Language Processing (KONVENS 2019), Erlangen, Germany (pdf)
Markus J. Hofmann, Steffen Remus, Chris Biemann, Ralph Radach (2019). Language models can outperform empirical predictability in predicting eye movement data. In Proceedings of the 20th European Conference on Eye Movements (ECEM) 2019, Alicante, Spain (poster-pdf)
Tim Fischer, Steffen Remus and Chris Biemann (2019): LT Expertfinder: An Evaluation Framework for Expert Finding Methods. In Proceedings of the 2019 Conference of the North American Chapter of the Association for Computational Linguistics (Demonstrations), Minneapolis, MN, USA (pdf, bib, demo, code)
Steffen Remus, Hanna Hedeland, Anne Ferger, Kristin Bührig and Chris Biemann (2019): WebAnno-MM: EXMARaLDA meets WebAnno. In Selected papers from the CLARIN Annual Conference 2018. Pisa, Italy (pdf)
Hanna Hedeland, Steffen Remus, Anne Ferger, Kristin Bührig and Chris Biemann (2019): Annotation gesprochener Daten mit WebAnno-MM. In Die 6. Jahrestagung des DHd e. V. 2019. Frankfurt & Mainz, Deutschland (poster-pdf)
Steffen Remus, Hanna Hedeland, Anne Ferger, Kristin Bührig and Chris Biemann (2018): EXMARaLDA meets WebAnno. In CLARIN Annual Conference 2018. Pisa, Italy (pdf)
Steffen Remus and Chris Biemann (2018): Retrofitting Word Representations for Unsupervised Sense Aware Word Similarities. In Proceedings Eleventh International Conference on Language Resources and Evaluation (LREC 2018), Miyazaki, Japan (pdf,poster-pdf)

Steffen Remus, Manuel Kaufmann, Kathrin Ballweg, Tatiana von Landesberger, and Chris Biemann. 2017. Storyfinder: Personalized Knowledge Base Construction and Management by Browsing the Web. In Proceedings of the 26th ACM International Conference on Information and Knowledge Management. Singapore, Singapore.  pp. 2519-252. (preprint-pdf, poster-pdf, website)
Markus J. Hofmann, Chris Biemann and Steffen Remus (2017): Benchmarking n-grams, Topic Models and Recurrent Neural Networks by Cloze Completions, EEGs and Eye Movements. In (Eds: B. Sharp, F. Sèdes and W. Lubaszewski): Cognitive Approach to Natural Language Processing, pages 197-215. ISTE Press, Elsevier (link)
Seid Muhie Yimam, Steffen Remus, Alexander Panchenko, Andreas Holzinger , Chris Biemann. 2017. Entity-Centric Information Access with the Human-in-the-Loop for the Biomedical Domains. In Proceddings of the Biomedical NLP Workshop associated with RANLP 2017. Varna, Bulgaria (pdf)
Steffen Remus, Gerold Hintz, Darina Benikova, Thomas Arnold, Judith Eckle-Kohler, Christian M. Meyer, Margot Mieskes and Chris Biemann (2016): EmpiriST: AIPHES Robust Tokenization and POS-Tagging for Different Genres. In Proceedings of the 10th Web as Corpus Workshop (WAC-X), Berlin, Germany (pdf)
Steffen Remus and Chris Biemann (2016): Domain-Specific Corpus Expansion with Focused Webcrawling. In Proceedings Tenth International Conference on Language Resources and Evaluation (LREC 2016), Protorož, Slovenia (pdf)
Alexander Panchenko, Stefano Faralli, Eugen Ruppert, Steffen Remus, Hubert Naets, Cédrick Fairon, Simone Paolo Ponzetto and Chris Biemann (2016): TAXI: a Taxonomy Induction Method based on Lexico-Syntactic Patterns,  Substrings and Focused Crawling. In Proceedings of the 10th International Workshop on Semantic Evaluation, San Diego, CA, USA (pdf)
Omer Levy, Steffen Remus, Chris Biemann and Ido Dagan (2015): Do Supervised Distributional Methods Really Learn Lexical Inference Relations? In Proceedings of the 2015 Conference of the North American Chapter of the Association for Computational Linguistics: Human Language Technologies. Denver, CO, USA (pdf, bib)
Chris Biemann, Steffen Remus and Markus J. Hofmann (2015): Predicting word 'predictability' in cloze completion, electroencephalographic and eye movement data. In Proceedings of the 12th International Workshop on Natural Language Processing and Cognitive Science. Krakow, Poland (pdf)
Jinseok Nam, Christian Kirschner, Zheng Ma, Nicolai Erbs, Susanne Neumann, Daniela Oelke, Steffen Remus, Chris Biemann, Judith Eckle-Kohler, Johannes Fürnkranz, Iryna Gurevych, Marc Rittberger and Karsten Weihe (2014): Knowledge Discovery in Scientific Literature. In Proceedings of the 12th Konferenz zur Verarbeitung natürlicher Sprache (KONVENS 2014). Hildesheim, Germany (pdf)
Dirk Goldhahn, Steffen Remus, Uwe Quasthoff and Chris Biemann (2014): Top-Level Domain Crawling for Producing Comprehensive Monolingual Corpora from the Web. In Proceedings of the LREC-14 workshop on Challenges in the management of large corpora. Reykjavik, Iceland (pdf)


Steffen Remus (2014): Unsupervised Relation Extraction of In-Domain Data from Focused Crawls. In Proceedings of the Student Research Workshop at the 14th Conference of the European Chapter of the Association for Computational Linguistics. Gothenburg, Sweden (pdf, bib)