What is Human Computer Interaction?
(Please note that currently the descriptions of programs taught in German (or in both German and English) are offered in German only.)
Im Bereich der Mensch-Computer-Interaktion (MCI) sorgen wir dafür, dass bei der Entwicklung von Systemen eine sinnvolle Aufgabenteilung zwischen Mensch und Computer erzielt wird und nicht einfach diejenigen Arbeitsaufgaben beim Menschen verbleiben, die (noch) nicht automatisierbar sind. Beispiele der Gestaltungsaufgaben mit denen wir uns beschäftigen reichen von der Touch-Interaktion mit Smartphones, über die Unterstützung von Profi-Photographen durch ein Hybridsystem aus Multi-Touch-Tisch und hochauflösenden Monitoren, bis zur Gestaltung sicherheitskritischer Mensch-Maschine-Systeme in den Bereichen Flugsicherung, Intensivmedizin und Rettungswesen. Egal ob Smartphone, Radarbildschirm oder Anästhesiegerät: gutes Interaktionsdesign endet nie beim Aussehen, sondern immer bei der Frage, ob Nutzer mit dem System ihre Ziele effektiv, effizient und zufriedenstellend erreichen können.
Mensch-Computer-Interaktion studieren
Der Bachelorstudiengang Mensch-Computer-Interaktion (MCI) ist stark interdisziplinär ausgerichtet. Er verbindet theoretische Grundlagen aus der Informatik und Psychologie mit anwendungsorientierten Themen aus den Bereichen Softwareentwicklung und Informationssysteme. Ausgehend von Untersuchungen zu menschlicher Kommunikation und Interaktion mit und durch Computer werden Informatiksysteme entwickelt, deren Gestaltung sich an den Anforderungen der Nutzerinnen und Nutzer orientiert. Durch Einbeziehung von grundlegenden Erkenntnissen der Psychologie und weiteren Fächern im Wahlbereich wird auf ein innovatives interdisziplinäres Berufsfeld vorbereitet.
Vortrag zum B.Sc. MCI aus der Reihe Was wie wofür studieren?:
Mensch-Computer-Interaktion - Form die Zukunft
(Lecture2Go, Medienplattform der Universität Hamburg)
Lehrende und Studierende im Interview
Sie interessieren sich für ein Studium  des B.Sc. Mensch-Computer-Interaktion an der Universität Hamburg?
Unser Vortrag zum B.Sc. MCI aus der Reihe Was wie wofür studieren? bietet weitere Informationen und Einblicke in das Studienprogramm (Lecture2Go, Medienplattform der Universität Hamburg):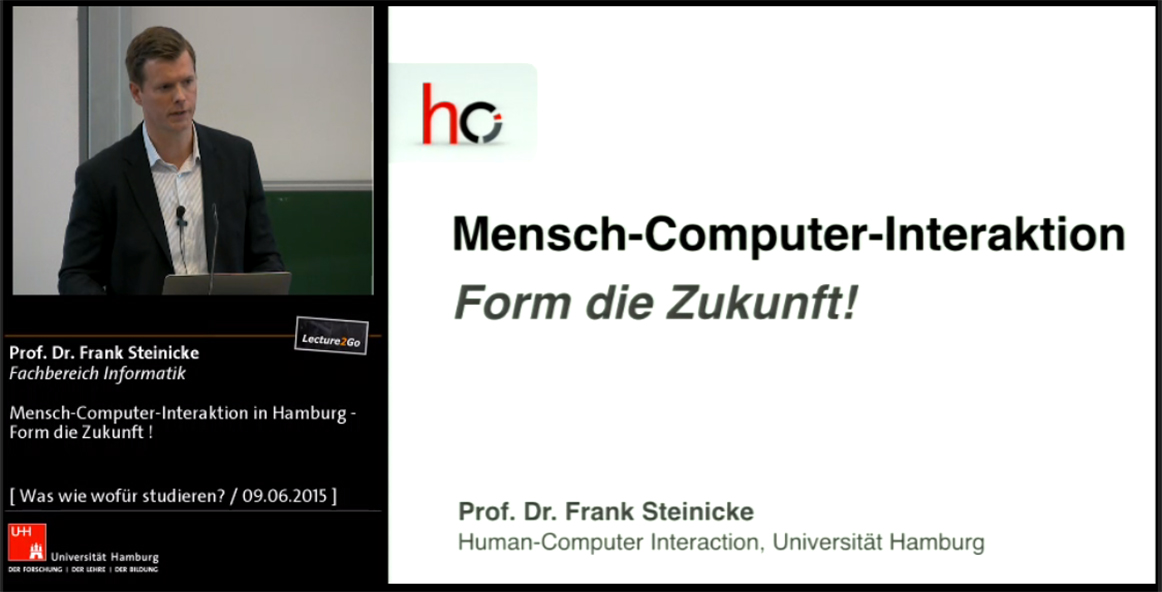 Interview mit dem Leiter der Gruppe Human-Computer Interaction, Prof. Dr. Frank Steinicke, zum Bachelorstudium Mensch-Computer-Interaktion an der Universität Hamburg: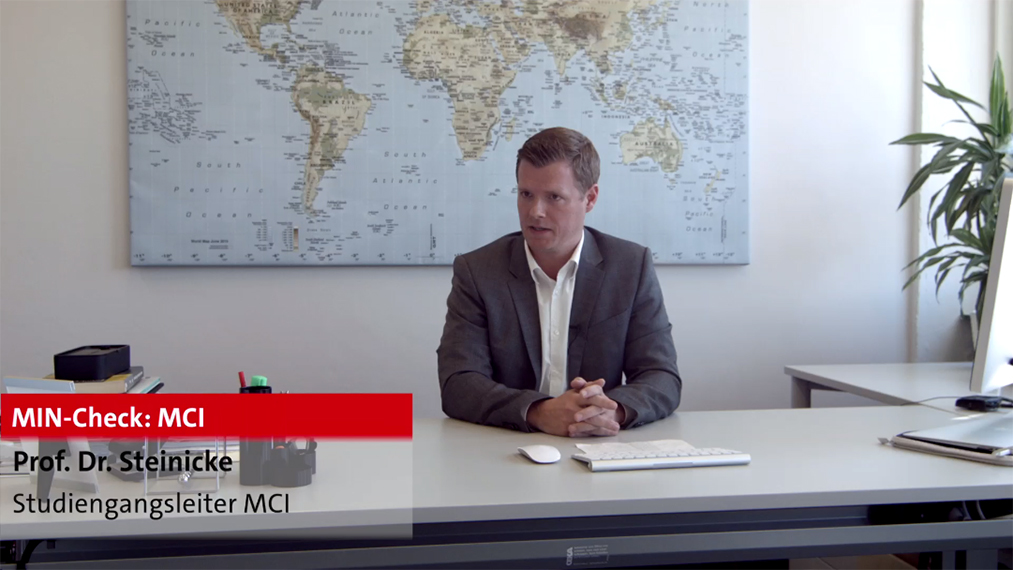 ---